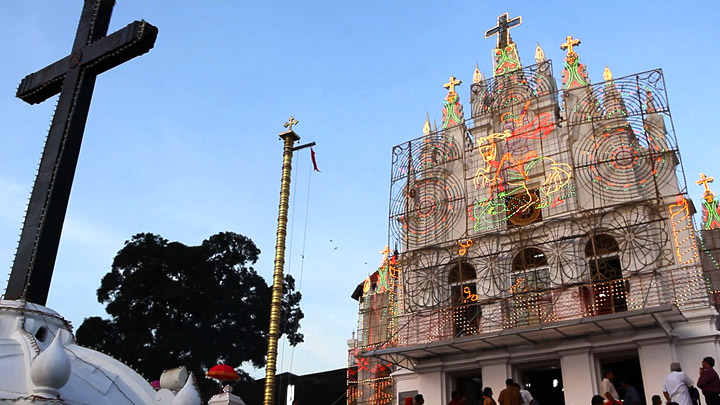 Event date: 08-05-2023
Venue: St. George Orthodox Church
District: Kottayam
Ever been to the 'Georgian Pilgrim Centre of the East'?
The renowned Puthuppally Perunnal (perunal means feast) is a two-day event marked by splendour and majesty. It is celebrated at the St. George Orthodox Church, Puthuppally. Traditional prayers and rituals add to the piousness of the occasion.
The Puthuppally Church was originally built as a kochu pally (chapel) in the name of St. Mary in C.E. 1557 and is one of the oldest and renowned churches of Malankara Orthodox Church.
The festivities here begin with the hoisting of the festival flag-mast, ten days prior to the festival. Virakideel (bringing of firewood to the church) vechoottu (a ceremonial feast), adya choroonu (a ritual in which children get their first feed of rice by priests) etc. are some of the rituals associated with the festival here.
The grand festival procession, raza, witnesses the holy golden cross from the church being carried to the nearby Puthuppally junction. Brightly coloured ceremonial umbrellas, orchestra and the Holy crosses in wood, silver and gold make the procession a visual splendour. 
Watch the video of Puthuppally Perunnal
Disclaimer
In Kerala, festival dates are decided in accordance with the Malayalam calendar and the local traditions and customs. We have calculated the festival dates based on these. But there can be changes in the dates according the customs and rituals associated with each place of worship. As such, these should be considered only as approximate dates and have to be confirmed with the local authorities.