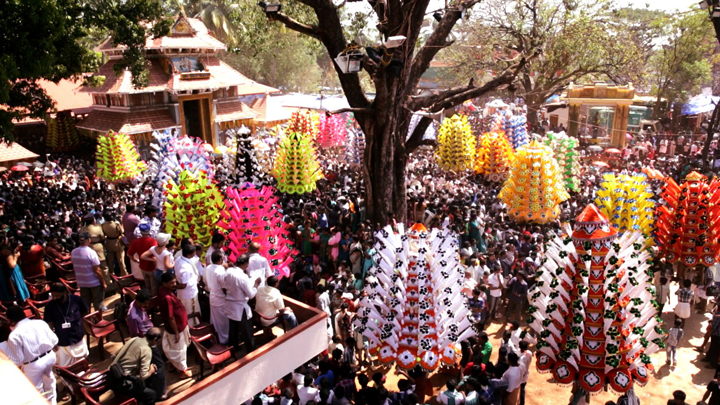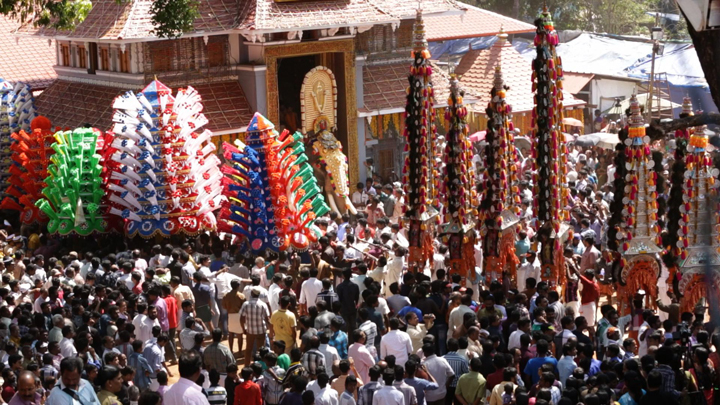 Event date: 26-01-2024
Venue: Koorkancherry Sree Maheswara Temple
District: Thrissur
The Thaipooyam Mahotsavam Festival pulls you in with the pulsating beats of the chenda (drums) while the cymbals punctuate every movement of the dancing devotees bearing the kavadis. All present seem possessed by a divine spirit that helps them shed their earthly burdens and revel in an otherworldly bliss. The exuberant colours and frenzy induced by the spirited performance of the devotees charges the atmosphere with a mystical energy as thousands congregate here. The event is the Thaipooyam Festival of the Koorkancherry Sree Maheswara Temple, celebrated in January / February in reverence of Lord Subrahmanya, son of Lord Shiva.

The Kavadiyattom performances which showcase a rich vibrancy of colours is one of the major attractions of this festival. The 'kavadi' is a richly decorated wooden arch that is carried on the shoulders. The proceedings begin in the morning where performances such as ambalakkavadi (temple) and pookkavadi (flowers) are formed on the basis of the shape of the kavadi. Fireworks mark the end of the festival and the memories created are priceless.
Disclaimer
In Kerala, festival dates are decided in accordance with the Malayalam calendar and the local traditions and customs. We have calculated the festival dates based on these. But there can be changes in the dates according the customs and rituals associated with each place of worship. As such, these should be considered only as approximate dates and have to be confirmed with the local authorities.