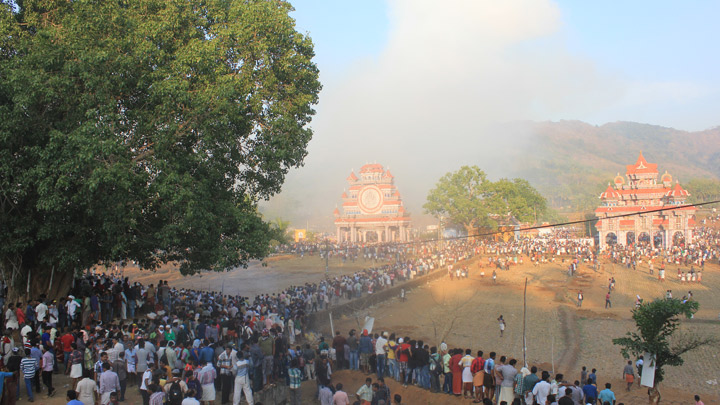 Venue: Sree Ruthira Mahakalikavu Temple
Location: Vadakkancherry
District: Thrissur
Uthralikkavu Pooram is celebrated in Sree Ruthira Mahakalikavu Temple in Vadakkancherry. It is among the most anticipated festivals in Central Kerala. The festival is held every year in the Malayalam month of Kumbham (usually falls on February / March). The temple is dedicated to the Goddess Kali. One gets to view an enthralling display of lights and fireworks as the entire area unites to celebrate this great festival.

The elephant pageantry is the main attraction. Caparisoned elephants are the centrepiece of the celebration. One can see them with flowing venchamarams (white tufts) and exquisite Aalavattams (peacock feather fans). A large number of folk art performances take place during this time period as well. It is one among the best times to visit this wonderful locale in Thrissur district.
Getting there
Nearest railway station:
Thrissur, about 21 km
Nearest airport:
Cochin International Airport, about 72 km
Disclaimer
In Kerala, festival dates are decided in accordance with the Malayalam calendar and the local traditions and customs. We have calculated the festival dates based on these. But there can be changes in the dates according the customs and rituals associated with each place of worship. As such, these should be considered only as approximate dates and have to be confirmed with the local authorities.