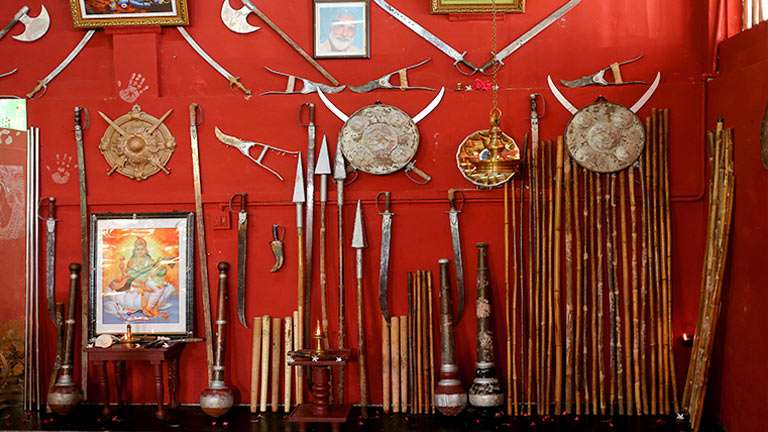 The Vadakkan Paattukal [ballads of North Malabar] and the Thekkan Paattukal [ballads of South Kerala] not only tell stories of numerous battles waged between princely states, but also of feuds fought between families and clans with the help of experts in Kalaripayattu, who were either members of the warring groups or mercenaries employed by them. It also gives verbal portraits of exceptionally heroic figures as well.
The exploits of brave warriors like Thacholi Othennan, Aromal Chekavar, Kannappa Chekavar, and Unniyarcha narrated in the Vadakkan Paattukal, and those of Idanaadan and Iravikutty Pillai in Thekkan Paattukal are so vivid as to give them a semi-divine aura. It is rare to find a Malayali who has not been fed on accounts of their legendary skill and courage. They even feature in Theyyam and Thira, the ritualistic folk art forms popular in Malabar [the northernmost region of Kerala].
At various times in the history of modern Kerala, their lives have been presented and the motives behind their actions subversively interpreted through many a blockbuster movie. Such has been the influence of Kalaripayattu that many of its moves can be seen choreographed in dances performed by Hindus, Muslims and Christians – like Poorakkali, Kolkali and Chavittu Natakam, ritualistic dance forms like Parichamuttukali, Patayani and Mudiyettu as well as the dance-drama of Kathakali, in which combat moves have been stylized to give them a stronger aesthetic appeal.
Through the centuries, the services of Kalaripayattu experts were sought to form the armed retinue of rulers of princely states to conduct duels in order to settle inheritance disputes between male members of aristocratic families, to take revenge on chronic enemies, or even to settle personal scores. Although Kalaripayattu gave birth to numerous combatants who were invincible in the arena, in the course of time, it proved no match for relatively modern war techniques that were unleashed on the state by invaders from neighbouring provinces (like Hyder Ali and Tipu Sultan in the 18th century) and later by colonizers from overseas (like the Portuguese, the Dutch and the British). This led to a decline in its popularity and practice until the freedom struggle led by K. Kelappan in Kerala paved the way for its revival. The restoration of this ancient martial art if not to its former glory but at least to a respectable position in popular imagination was possible because of the silent dedication of many who pursued it passionately through its years of suspended animation and near oblivion.