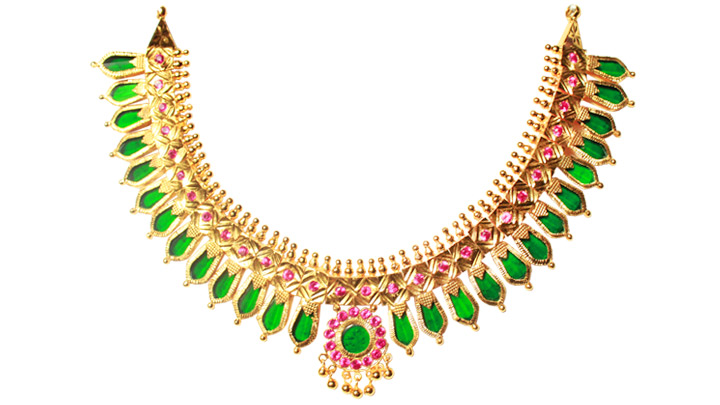 Base material: Metal
Category: Jewellery
Keralites have embraced and loved gold since time immemorial. Regardless of religion or caste, it is central to our identity. In the ancient days, each community or caste had its own traditional designs of ornaments which were made especially by the family goldsmith. The passion for gold has only increased over time and the current fashion industry merges the traditional designs and the modern patterns under one roof, the jewellery shops.

Women especially are known to adorn themselves with numerous gold ornaments in a multitude of ways. It plays a major role in our celebrations, be it religious ceremonies or marriage festivities. The main ritual in the Kerala wedding ceremony is the thaalikettu, the tying of the sacred nuptial thread on which is stringed the 'thaali' - a tiny leaf shaped gold plate, which marks the sacred bond of marriage. The Christians have a little cross engraved on the 'thaali'. Muslim women have their distinctive ear rings, necklaces and elaborately designed articles for the waist.

Gold ornaments are made in almost all parts of the State. Thrissur in central Kerala has always been a shopping paradise for traditional gold jewellery. The jewel street in Thrissur is famous for having the maximum number of jewellery shops on a single lane.