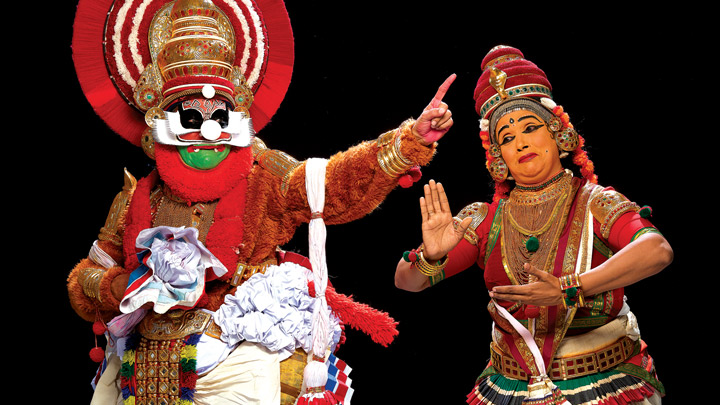 Kutiyattam literally means "acting together". This is the earliest classical dramatic art form of Kerala. Based on Sage Bharatha's 'Natyasastra' who lived in the second century, Kutiyattam evolved in the 9th century AD.
Kutiyattam is enacted inside the temple theatre, there are two or more characters onstage at the same time, with the Chakkiars providing the male cast and the Nangiars playing the female roles. The Nangiars beat the cymbals and recite verses in Sanskrit, while in the background Nambiars play the Mizhavu, a large copper drum.
Vidushaka or the wise man, a figure parallel to the Fool in Shakespearean plays, enacts his role with the liberty to criticise anyone without fear. The costume of the jester sets him apart from the rest. The Kutiyattam performance lasts for several days ranging from 6 to 20 days. Themes are based on mythology.
The Koodal Manikyam temple at Irinjalakkuda and the Vadakkumnatha temple at Thrissur are the main centres where Kutiyattam is still performed annually. Late Ammannoor Madhava Chakkiar was an unrivalled maestro of this rare art form.