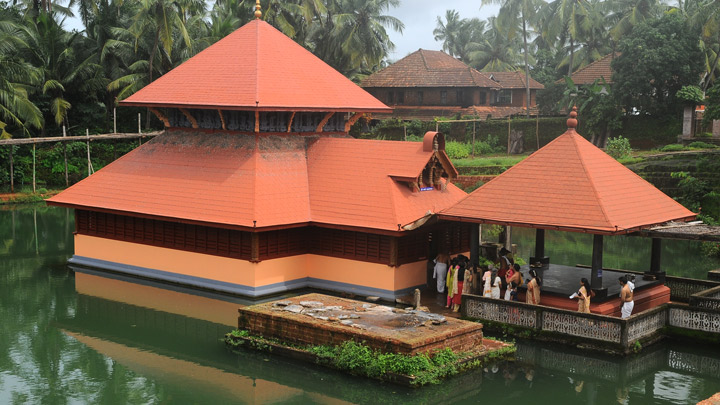 Temple timings: 05:30 - 12:30 hrs & 17:30 - 19:30 hrs

In the northern tip of Kerala lies the Ananthapura Lake Temple, the only lake temple in Kerala. The rectangular lake, supplied with regular spring water, hosts this magnificent temple. It is considered the moolasthanam (original abode) of Lord Ananthapadmanabha, the deity of the famous Sree Padmanabhaswamy Temple in Thiruvananthapuram. This 9th-century temple is situated 30 km from Bekal in Kasaragod district. The view of the hillocks from the temple is extremely famous. Babia, the vegetarian crocodile and temple guardian, is popular among visitors. The drive to the temple in itself is extremely peaceful and calming.
Visit the website:- http://ananthapuratemple.com/
Getting there
Nearest railway station: Kasaragod Railway station, on the Kozhikode-Madhur road, about 14 km.  
Nearest airport: Mangalore Airport (Karnataka), about 56 km | Kannur International Airport, about 125 km | Calicut International Airport, about 222 km
Location
Latitude: 12.584219, Longitude: 74.982051
Geographical Information
Altitude: Sea level
Distance from district headquarters: 3000 m North direction.