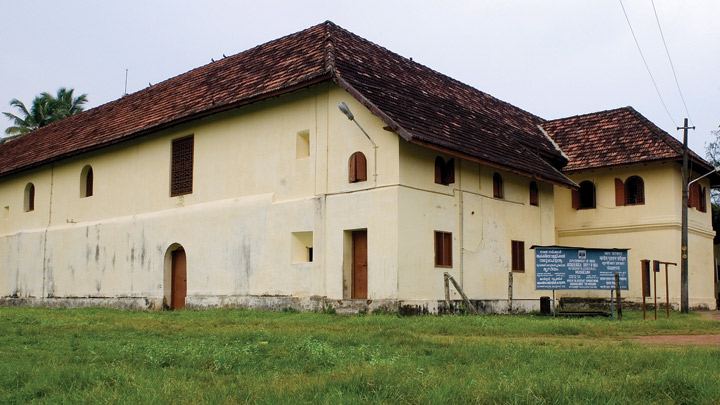 The Mattancherry Palace, also known as Dutch Palace, is one of the finest examples of the Kerala style of architecture interspersed with colonial influences. Located at around 12 km from Ernakulam, it was built around 1545 C.E. by the Portuguese as a present to King Veera Kerala Verma of Kochi dynasty. It came to be known as the Dutch Palace as it underwent major repairs at the hands of the Dutch. It is famous for its long and spacious halls along with its central courtyard. It is also the home of the deity of the royal family, Pazhayannur Bhagavathy (the Deity of Pazhayannur).

This double storied palace has a lovely collection of murals. These depict some of the great Indian epics like Ramayana and Mahabharata along with revered Gods of the Hindu faith like Lord Krishna of Guruvayur Temple. The great works of Sanskrit poet Kalidasa have also been depicted. The mural paintings cover an area of almost 300 sq. km. One gets an idea of the lives of the royal family with some of the other exhibits. These include the life-size portraits of the Kings of Cochin since 1864, sheathed swords, daggers and axes besides ceremonial spears decorated with feathers. Royal caps, coins issued by the Kings of Cochin along with plans laid out for Cochin by the Dutch can also be viewed here.

Visiting Hours:
10:00 - 17:00 hours on all days except Fridays.
Getting there
Nearest railway station: Ernakulam, about 10 km
Nearest airport: Cochin International Airport, about 42 km
Location
Latitude: 9.958241, Longitude: 76.259272