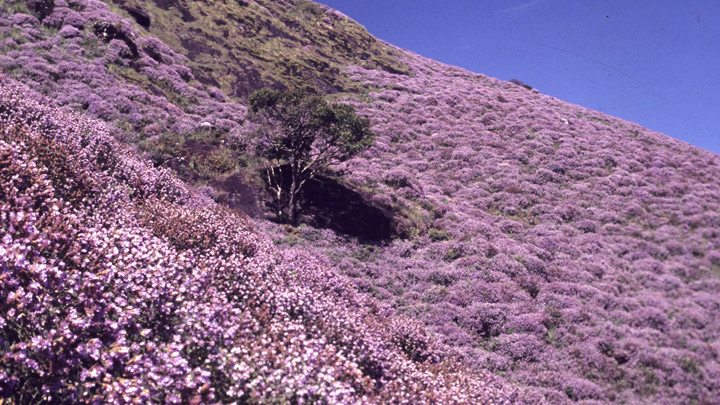 In 2018, the beautiful hills of Munnar shall once again attract people from across the planet to view a very special phenomenon in person. This monumental event is the blooming of the Neelakurinji flower, which appears once every 12 years, and can only be viewed here in Munnar. 

Neelakurinji or 'Strobilanthes kunthiana' blooms in 40 or so varieties, a majority of them being blue in colour. 'Neela' literally translates to 'blue' and kurinji is the name given to it by the tribals of the area. Last seen in 2006, the time for viewing them begins in August and lasts up to October. In Munnar, one can view this great sight from Kovilur, Kadavari, Rajamala and Eravikulam National Park. Eravikulam is incidentally home to the endangered Nilgiri Tahr, hosting a majority of the remaining population of the species on the planet. 

Botanists and nature lovers alike mark their calendars in anticipation of this event. Standing amidst the Neelakurinji, one is transported to a different dimension altogether. One can view the shorter variation (about 2 ft.) at higher spots and longer variations (about 5 to 10 ft.) are seen at lower spots. Specialized tours of this rare phenomenon are available during this time period around the area and treks are organised to view this masterpiece of nature. It is like a secret glimpse into heaven, allowed only once every 12 years.
Getting there
Nearest railway station: Angamaly, about 109 km; Ernakulam, about 145 km away.
Nearest airport: Cochin International Airport, about 110 kms away.
Location
Latitude: 10.095966, Longitude: 77.058392