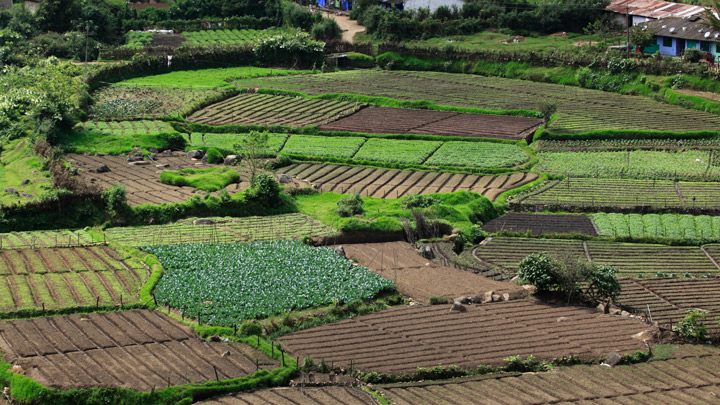 Most locations in Munnar are generally known for their slopes, rare fauna and a wonderful view of the valley.  Vattavada, however, is known for its vegetables. These terraced slopes and valleys, located 45 km to the east of Munnar, contain some of the finest crops and produce in all of Kerala.

Situated 6500 ft above sea level, people visit this exceptional destination in large numbers. It is known for its equable climate and is blessed with sunlight throughout the year. The slopes of the multi-colored vegetable fields are dotted with various forest patches. One can see beautiful trees like the Eucalyptus and Conifers in these parts. You can also observe some rare butterfly species here, fluttering around in various hues and sizes.

The trekking routes are special in Vattavada as they are connected to many other important destinations in the area. A trek here can get you to other tourist favourites like Kodaikanal, Top Station, Mattupetty, Kanthaloor and Meesapulimala. People love walking these trails to soak in the beautiful natural vegetation. The locals are friendly and are always ready to help in any way they can.  Private operators also offer special packages that include mountain jeep safari, mountain biking and jungle camping.

These lands have a rich history and the tribals of the area attest to that. Their customs, art forms, natural remedies and way of life have intrigued people for centuries and add a distinctive flavour to the entire place.
Getting there
Nearest railway station: Ernakulam Junction, about 130 km away from Munnar
Nearest airport: Cochin International Airport, about 110 km away from Munnar
Location
Latitude: 10.179781, Longitude: 77.257862