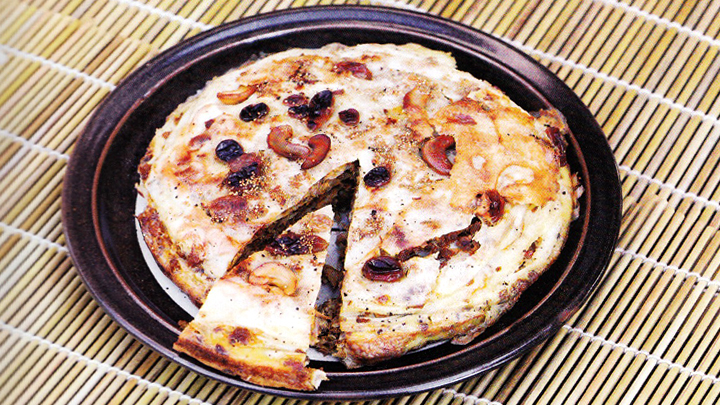 A snack savoured in the North Malabar region of Kerala, Chattipathiri is a layered dish which is one among the dishes used to break the fast during the holy month of Ramadan. This layered dish which resembles the lasagna is a sweet snack that is stuffed generously with raisins, nuts and fruits and makes for a great dessert.
Ingredients
For Pathiri
Plain flour - 150 gm
Salt to taste
For Filling
Eggs - 5
Sugar -5 tbsp
Cardamom pods (powdered) - 2
Ghee - 4 tbsp
Poppy seeds - 1 ½ tbsp
Raisins - 100 gm
Cashew nuts - 100 gm
For coating
Eggs – 3
Sugar–3tbsp
Cardamom powder - 2 pinch
Method of Preparation
For Pathiri: Mix the flour with water and salt and knead till soft dough is obtained. Using a roller pin, roll the dough out into very thin pathiris. Prepare about six such pathiris. Cook it on a hot griddle and keep aside.
For filling: Beat the eggs, sugar, and cardamom with 3 tbsp of ghee. Make a soft scrambled egg mixture. Then roast the poppy seeds lightly and fry the raisins and cashew nuts in ghee. Mix it with the scrambled egg mixture and keep aside.
For coating: Beat the eggs with sugar and cardamom.
Take a heavy-bottomed vessel with a lid and spread one tbsp of ghee into the vessel. Then place one pathiri inside and spread the filling on the top of this pathiri. Dip the second pathiri into the coating and place it on top of the filling. Continue in a similar manner, layering each soaked pathiri with the filling till all the pathiris are placed. The last layer should consist of the dry fruit and nut mixture.
Cook it on a stove top in a non-stick deep skillet or deep pan. Please make sure that you are cooking it in a very low flame and flip it carefully to cook on the other side. When both the sides have cooked well, it is easy to slide it out of the pan into the serving plate.
You can also bake it in oven for about 10-15 minutes or until the top of pathiri turns golden.
The Chattipathiri is ready.