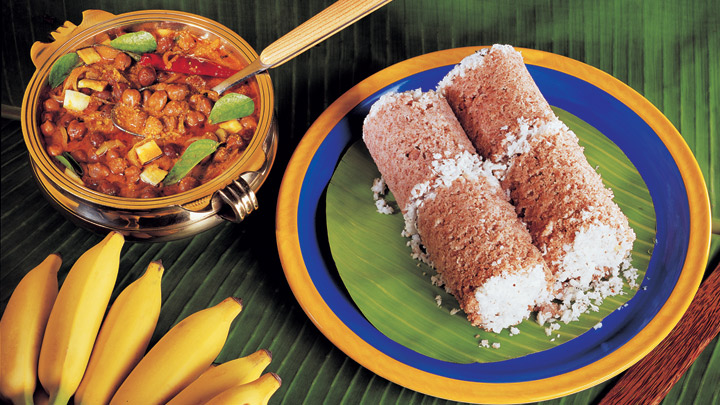 Visit any Malayali household across the world and chances are that you'll see delicious Puttu and Kadala curry being served for breakfast. It is the go-to dish for most Keralites with its rich flavour and easy to follow recipe. The aroma itself is mesmerising and by the time the first mouthful of soft puttu and spicy kadala (Black chickpea) curry melts in your mouth, you will be transported to another dimension altogether. Below is the recipe for one of the finest delicacies made in God's Own Country.

Puttu
Ingredients
Coarse Rice Flour - 1 cup
Grated Coconut - 1/2 cup
Water - As Required
Salt - To Taste

Method of Preparation
Add salt and water to the flour, mix well so that there are no lumps. Fill the mixture in puttu maker. First make a layer of grated coconut, then flour. Like this make alternative layers. Steam till cooked.

Kadala Curry
Ingredients
Black Chickpea - 1 kg
Coconut Oil - 100 ml
Grated Coconut - 3   
Garlic - 10 g
Shallots - 150 g
Mustard Seeds - 10 g
Red Chilli - 50 g
Sliced Onion - 500 g
Whole Coriander - 50 g
Turmeric Powder - 1 tsp
Red Chilli Powder - 1/2 tsp
Curry Leaves - 2 sprigs
Garam Masala Powder - 2 tsp
Salt - To Taste

Method of Preparation
Boil black chickpea in salt. Sauté grated coconut, shallots, red chillies, coriander, curry leaves and garlic in a little coconut oil till golden brown. After that grind them together to a coarse paste. Sauté the mustard seeds, sliced onions, coriander powder, chilli powder, and garam masala powder and fry well. Add water and the boiled channa. Cook well. Add a little salt and serve hot.

Courtesy: Hotel Mascot, Thiruvananthapuram.