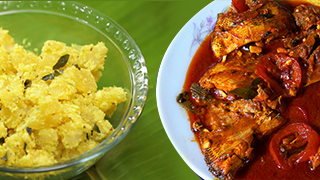 Kappa or tapioca has been a beloved staple of Kerala cuisine for centuries. With the right blend of spices, a perfectly cooked piece of Kappa almost melts in your mouth. And everyone agrees that fish is the perfect accompaniment to Kappa. Meen Mulakittathu along with Kappa is the epitome of an ideal Kerala meal and here, we bring you the recipe for the same.

Kappa - Ingredients
Tapioca - 1 kg                 
Green Chilly - 2 nos.
Coconut - Half            
Turmeric powder - a pinch      
Salt - to taste           
Curry leaves - a sprig
Tempering
Small onions - 2 or 3 nos.
Mustard seeds - 1 tsp.
Curry leaves -  a sprig
Coconut oil - 1 tbsp.

Method of preparation
Clean tapioca and dice. Wash thoroughly and boil in water. Drain off excess water from cooked tapioca. Add salt, ground coconut, green chilli and turmeric. For tempering, heat, oil and crackle mustard seeds, brown small onion slices and curry leaves. Put these over the stirred tapioca and serve hot.

Meen Mulakittathu - Ingredients
Seer fish - 500 g
Red chilli powder - 40 g
Coriander powder - 20 g
Ginger - 1 piece
Garlic - 1 clove
Kokum - 15 g
Salt - to taste
Tempering
Coconut oil - 2 tbsp.
Small onions - 2 or 3 nos.
Mustard seeds - 1 tsp.
Redchilly(w) - 2 nos.
Fenugreek - a pinch
Curry leaves - 2 sprigs   
      
Method of preparation
Clean the fish and cut into even-sized pieces. Marinate for a while. Slice ginger and garlic. Smear with red chilli powder, coriander powder, salt, kokum and curry leaves. Add water and cook for 5 to 10 minutes. Temper with given ingredients.

Courtesy: Thrisangu Haven Hill Resort, Peermede, Idukki.