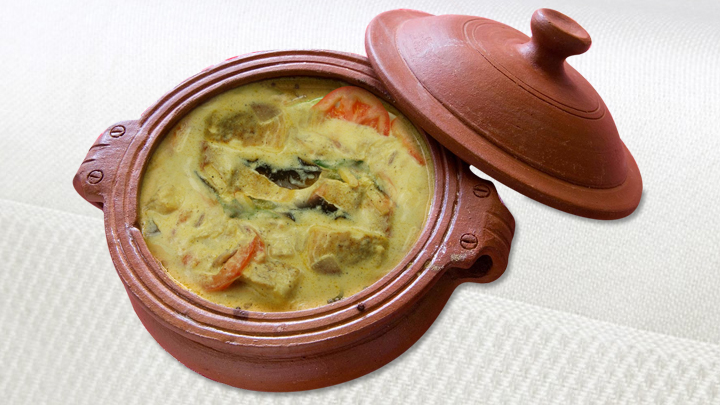 A dish with origins that can be traced back to Portugal, Fish Moilee is a spicy and delicious fish preparation that has fans world over. The Kerala version of this preparation has a creamy richness to it that will drown your taste buds in irresistible flavours.
Ingredients
Pomfret fish - 12 pieces
Coconut oil - 2 tbsp
Mustard seeds - 1 tsp
Garlic - 8 pods (finely chopped)
Ginger – a medium piece (finely chopped)
Green chili - 6 nos (sliced)
Onions – 3 nos (sliced)
Salt – to taste
Curry leaves - 24 nos for flavour
Tomatoes - 3 nos (sliced)
Turmeric powder - 1/2 tsp (2 g)
Coconut milk (3rd extract) - 1/2 cup
Coconut milk (2nd extract) - 3/4 cup
Coconut milk (1st extract) - 3/4 cup
Lemon juice - 1 tbsp
Method of preparation
Heat oil in a pan and add mustard seeds. Stir over medium heat until they begin to splutter. Next, add garlic and ginger and stir for a minute. Add green chilies and stir lightly. Now add the onions and sauté until it turns slightly brown. Sprinkle turmeric powder and stir well. Add the fish pieces and the third extract of coconut milk. Bring it to a boil.
Now lower the heat and simmer. Turn the pieces carefully once for three minutes. Add salt and stir well before adding the curry leaves, tomatoes and the second extract of coconut milk. Cover and simmer for three minutes.
Remove the pan from heat and gently (make sure that the fish pieces do not break) stir. You can now add the first extract of coconut milk. Return the pan to heat and bring to a boil over low heat. Sprinkle lemon juice and stir carefully. Now remove from heat and adjust the seasoning. Transfer the contents to a bowl.
This dish is best served with steamed rice.