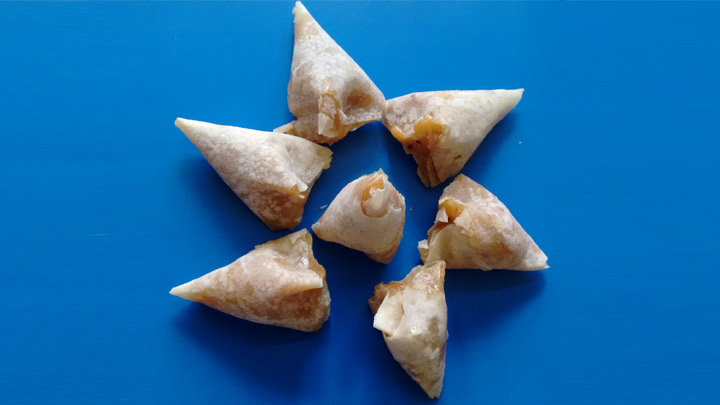 A typical Kerala sweet that is both filling and delicious, this is a recipe that has been handed down through generations. It is a perfect evening snack that will satisfy both your hunger and your heart.
Ingredients
For Pastry
Maida: 1 cup
Oil: ½ tsp
Salt a pinch
Water – as required
Fine rice flour - as required
Method Put maida, oil and salt in a mixing bowl and mix well. To this mixture add enough water and knead the flour into soft and smooth pastry dough. Form half inch balls from the dough. Dip each ball in fine rice flour and then roll into a wafer-thin round. Lightly cook the pastry rounds on a medium hot griddle for just 30 seconds on each side. Stack the rounds in a plate and cover them with a damp cloth to keep the dough soft and pliable.
Now prepare the filling.
For Filling
Rice powder roasted with coconut: 2 cups
Cardamom (powdered): 1/4 tsp
Sugar: 1 ¼ cups
Water: ¾ cup
Lime Juice: 1 ½ tsp
Method
Mix sugar, water and lime juice in a bowl. Heat this mixture stirring continuously till we get a single thread consistency. Remove this from heat and then set aside ½ cup sugar syrup. To the remaining syrup add vanilla essence and cardamom powder and then the roasted rice powder a little at a time.
To make the Churuttu: Cut each round of pastry in half form a cone with it. Stuff each such cone with 1 to 1 ½ tbsp of warm filling. Seal the edges together, place on a tray. Set this aside for 2 hours until the syrup from the filling has moistened and seeped into the pastry. The churuttu is ready.