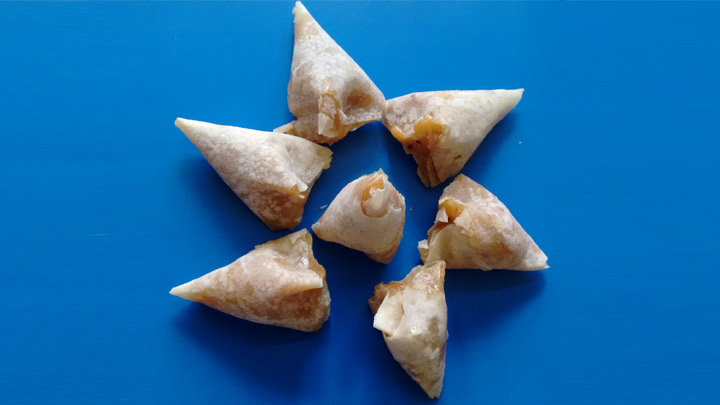 Kottayam Churuttu combines a sweet and delicate filling with a crispy exterior which has turned into a much loved dessert snack across Kerala. This simple recipe is consumed across the State as a light evening snack, and visitors swear by its silky sweet taste. The recipe below will help you recreate this heart-warming snack at home.

Ingredients - For Pastry
Maida: 1 cup
Oil: ½ tsp.
Salt a pinch
Water – as required
Fine rice flour - as required

Method of Preparation
Put maida, oil and salt in a mixing bowl and mix well. To this mixture add enough water and knead the flour into soft and smooth pastry dough. Form half inch balls from the dough. Dip each ball in fine rice flour and then roll into a wafer-thin round. Lightly cook the pastry rounds on a medium hot griddle for just 30 seconds on each side. Stack the rounds in a plate and cover them with a damp cloth to keep the dough soft and pliable.
Now prepare the filling.  

Ingredients - For Filling
Rice powder roasted with coconut: 2 cups
Cardamom (powdered): 1/4 tsp.
Sugar: 1 ¼ cups
Water: ¾ cup
Lime Juice: 1 ½ tsp.

Method of Preparation
Mix sugar, water and lime juice in a bowl. Heat this mixture stirring continuously till you get a single thread consistency. Remove this from heat and then set aside ½ cup of the sugar syrup. To the remaining syrup add vanilla essence and cardamom powder and then the roasted rice powder a little at a time.

Churuttu Preparation
Cut each round of pastry in half form a cone with it. Stuff each such cone with 1 to 1 ½ tbsp. of warm filling. Seal the edges together, place on a tray. Set this aside for 2 hours until the syrup from the filling has moistened and seeped into the pastry. The churuttu is ready.