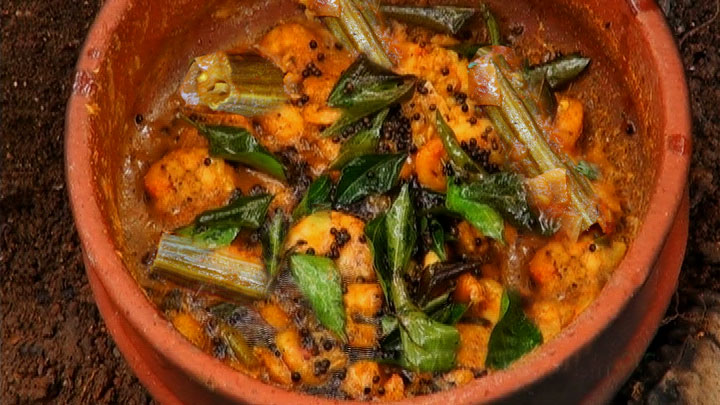 Kerala is a gourmet's paradise. The cuisine of this small State of India offers a multitude of dishes, ranging from the traditional sadya to seafood delicacies. They differ with region, and even with households. Evolved from the past, the diversity of Kerala cuisine is the result of historical events that influenced the culinary habits of the natives. Those who invaded colonized traded with or settled in different parts of Kerala; left their indelible mark on the cuisine and gradually it evolved into a world of its own. We bring you the recipe of one such unusual dish; ChemmeenMuringakka Curry or Prawns in Drumstick Curry.

Ingredients
Prawns (cleaned)        -           250 to 300 g
Turmeric powder          -           1/4 tsp.
Drumstick                     -           1        
(cut it into 2 inch long pieces)
Kudampuli / Kokum        -           2
(Malabar tamarind, soaked in water)
Tomato (sliced)            -           1 large
Green chilli                 -           2 to 3  (to taste)
Salt to taste
Water
To Grind
Grated coconut         -           3/4 cup
Shallots                     -           4
Turmeric powder       -           1/4 tsp.
Chilli powder              -           1/2 to 1 tsp.
Coriander powder      -           1 tsp.
Cumin seeds              -           1/4 tsp.
Water                         -           1 cup

For Tempering
Mustard seeds
Fenugreek seeds         -           1/4 tsp. (optional)
Shallots (sliced)            -           3
Curry leaves                 -           4 or 5
Dried red chilli               -           3
Oil

Method of Preparation
Grind grated coconut with the rest of the ingredients to form a smooth paste. Keep it aside. In a pan or a manchatti(clay pot), cook prawns with turmeric powder, salt to taste and about 1 cup of water. When it is half done, add drumstick pieces and cook till it is done. Now add the coconut paste, kudampuli, tomato, green chilli, water and salt to taste. Bring it to a boil and simmer for 5 to 10 minutes. Switch off the stove. Heat oil in another pan and add mustard seeds. Let it splutter. Now add fenugreek seeds and fry for a few seconds. Add red chillies, curry leaves and shallots, fry till shallots turn golden brown. Pour this over the curry and serve.