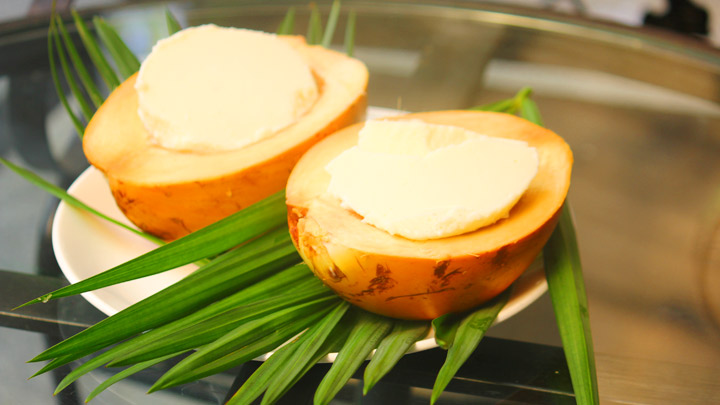 Tender Coconut Soufflé is a delicious dessert that utilises both traditional technique and natural ingredients. Combining the succulent tender coconut with the creamy ingredients of a traditional soufflé, this delicate dish is known to melt in your mouth. Its complexity is derived from the flavour of fresh coconut and is a popular treat throughout Kerala. The recipe below will help you recreate this culinary marvel at home.

Ingredients
Tender coconut - 1 no
Sugar - 80 gm.
Milk - 300 ml
Gelatine - 10 gm.
Egg – white - 2 nos
Coconut extract - 25 ml
Rose essence - 2 drops
Milk cream - 10 ml
Corn flour - 10 gm

Method of Preparation
Mix cream and sugar with half the egg white and corn flour. Add boiled milk gradually. Cook in double boiler until the custard is thick. Add gelatine dissolved in warm water, strain and cool. Add coconut extract, essence, cream, tender coconut and stiffly beaten white of egg.  Put into a mould and set in refrigerator.

Courtesy: KTDC.