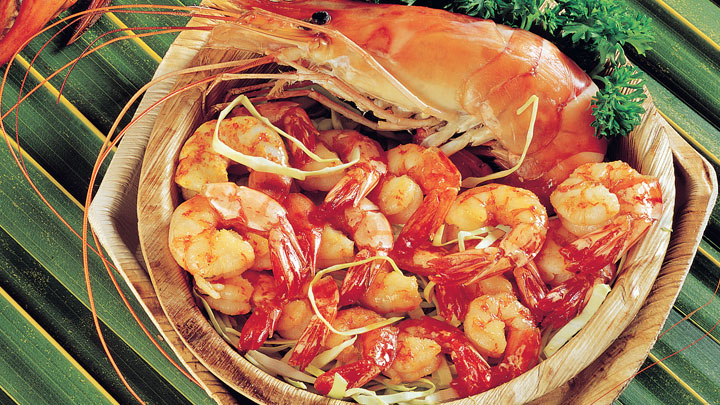 A dish that is quite characteristic of the Malabar region, this prawn curry is the trademark of Thalassery. Spicy and rich with flavours, this dish is a favourite of those who relish seafood.
Ingredients
Curry leaves- 2 sprigs
Green chilies (split in two) – 4
Fenugreek powder (roasted) - ½ tsp
Tamarind water
Paste of ground coconut
Prawns - ½ kg
Coconut oil - 1½ cup
Ginger (chopped) - 1½ tsp
Garlic - 1½ tsp
Chili powder - 1½ tsp
Turmeric powder - 1 pinch
Shallots - 2 nos
Tomato - 3 nos
Method of Preparation
Take a vessel, preferably earthen, and heat some oil. Once well heated, add to it shallots, green chilies split into two, garlic and finely chopped ginger. Sauté well.
Now add to this turmeric powder, red chili powder, pieces of tomato and stir gently. If required, pour more coconut oil. To this mixture, add the ground coconut. Mix well. Next, add the prawns, salt and water. Cover the vessel and cook for some time. Finally, remove the lid, add the roasted fenugreek powder, some tamarind water and garnish with the curry leaves.