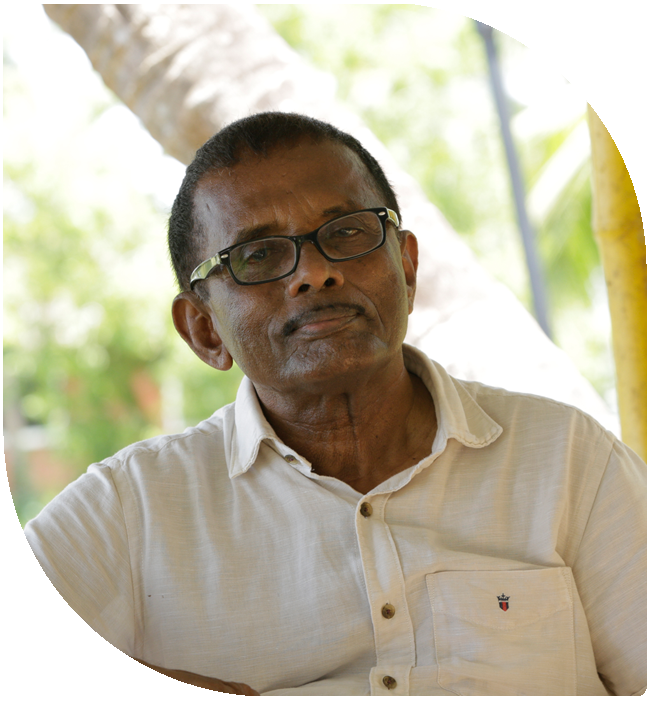 G. S. Gul Mohammed
Managing Director,
Oyster Opera
---
Oyster Opera, a theme village resort located near Padanna in Valiyaparamba is one of a kind in the state. Spread across more than eight acres of land, surrounded by the emerald backwaters and palm-fringed islands, the stay at the resort is one of a lifetime experience. The success of this enterprise doesn't happen overnight. It was the hard work, selflessness, and compassion of a man towards his community that has paid him back. Meet G S Gul Mohammed, the founder and Managing Director of Oyster Opera, in his early seventies, recognised as a farmer and ecotourism propagator. He had won several accolades for his innovative methods in aquaculture, including the national award (Karshaka Shiromani Samman) from the Ministry of agriculture. Humble and voluble in his words, he says, "I am not a hospitality man and this resort was not started intentionally; rather accidentally".
Born and brought up in a small village in the northern part of Kerala, he too had to face the difficulties of life. During the Gulf boom, he moved to the Arab countries for a better living. Spending more than a decade in UAE, he decided to return and settle down in his homeland, but, remembers his time there, worthy and fruitful. In 1988, he initiated prawns and crab farming in his village. In the early 90s, the poor households in the community were hit hard by the agrarian crisis and set-back of the beedi industry. In 1996, starting as an experiment for the Central Marine Fisheries Research Institute, he developed innovative methods for mussel cultivation using local resources. The wild green mussels grown on coir was a huge success. The following year the cultivation was expanded on a large scale. He was successful in convincing the villagers about the techniques used, organised them in Self Help Groups, and empowered them for a better living. It was mostly women, who became part of the farming. He envisioned that empowering women can bring social change. Today, there are more than 6000 farmers engaged in Oyster and mussel cultivation from Padanna Grama Panchayat and it is one of the largest exporters of mussels in Kerala.
Knowing about the tourism potential of the region, he initially thought of providing support to these farmers in turning their houses into homestays, but the plan failed. "During that time a foreign correspondent has advised me of doing it my own. Till that day, I haven't had thought about it that way. But I was happy that, if it works, I could give employment to many more people in my village" he remembers. "From then on, I started learning about it, discussed the idea with the officials in the tourism department and they encouraged me to do so. In their opinion, my property was an ideal site for the resort, and moving on, we inaugurated the resort in 2007," he says.
Since he owned the land, cottages were constructed budget-friendly using his own savings. He didn't want to take a bank loan and the resort was built using locally available natural materials. This helped them to reduce the cost of construction. Initially, they started with four to five small cottages, it was expanded over time based on the revenues from the same resort. He also tapped his limitations into opportunities. He turned the marshland areas of the property into ponds, used it for Oyster cultivation, which is a key attraction among the tourists.
"Like any other business, the initial days were hard. No one visited the resort for several months after the inauguration. But I made a move to visit the tour operators in Mangalore and gave them our brochures. After some months, I received a call from them for reserving a cottage for a doctor's family. They were our first guests, and we had received them with the utmost attention and served them ethnic Malabari delicacies. They commented on our resort as- a beautiful resort with some strange food. Moving on, many doctor families visited us and from then on, we never had to look back. Now, we have business year-round", he says. He acknowledges with gratitude the extensive marketing support he received from the state government. The resort was also featured in some of the national channels which helped them get even more publicity. They receive international as well as domestic tourists alike. Except in the Monsoon season, the resort is fully occupied.
The cottages built-in water, land, and treetop are of standard and premium quality. The cottages are named Oyster, Shrimp, Clam, Crab, Float House, Pearl Oyster, Lobster, and Snail. Depending on the season and demand, they offer several activities to the clients. Canoeing, country boat rides, coracle boat rides, swimming, angling are to name a few. Being at the resort, these activities help the tourists to engage themselves while enjoying the scenic beauty of backwaters and the fishing village. Moreover, visits to the nearby Valiyaparamba beach, mangrove islands, monkey forests, and estuary are other options to explore during the stay there.
The resort employs more than 30 people and most of them are community members. In his words, the resort is fully community-driven. Oyster Opera is a perfect example of experiential tourism, where anyone gets hands-on experience in fishing practices. They plan to upgrade the facilities offered in rooms and would be developing much more sports activities in the near future. A man who revolutionised his entire village, the story of Gul Mohammed is inspiring and a model for aspiring entrepreneurs to take up the risks and bring change to their community.