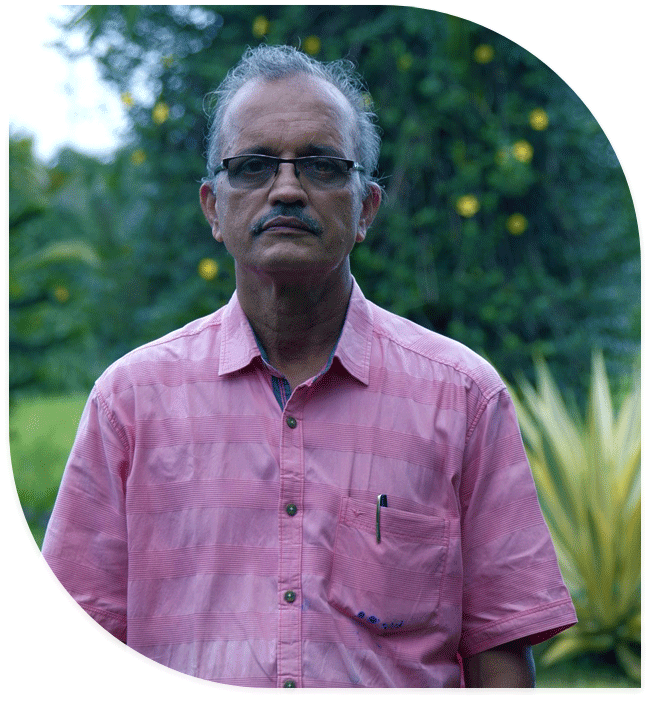 Ramachandran Peringettu
Secretary
Kadaleevanam Trust
---
Far more than a business enterprise, Kadaleevanam embodies the story of a group of like-minded people who wanted to revamp the agrarian culture. Hailing from a village that is closely connected to the agricultural revolutions and changes, they thought every change should begin from themselves and their families. Ramachandran Peringettu, secretary to Kadaleevanam trust recall, "We, a group of five friends almost at the age of retirement, were always worried about the changes in the agricultural sector. We strongly believe in organic farming and our tea-time chitter chatters during that time sparked this idea and paved the way to Kadaleevanam, for what it is today."
"From a group of five, the members had grown to 10 when we started agricultural activities in 2004 and then, to fifteen members. A mere thousand of rupees we contributed in the initial days for buying the land was the capital amount. In three to four years, around seven acres of paddy land and the adjoining land was acquired by the members." Later on, Kadaleevan Trust was formed in 2008. For long years they concentrated only on organic rice cultivation and vegetable farming. Cattle rearing activities were started in the purview of providing fertilizers for organic farming. Kasaragod dwarf cattle, a special breed of cattle from Kerala, known for its high mineral-rich milk are reared here. "Some members in the trust take charge of each of these activities and it is well managed under their leadership. We don't see this as a profit-making idea. In farming, we may often have to face failures. But here, we don't have to face it individually and hence the brunt of the loss is reduced".
Kadaleevanam Yoga Academy was started in 2012 and is managed by Sivananda Yoga Vidyapeetham. They offer certificate courses in Yoga training and are usually one to two-month programs. "As it is run by the Sivananda Vidyapeetham, we don't have to look into the marketing or business part. We had to take a loan for constructing the Academy Block but could repay the amount out of the revenue." Single rooms and dormitory facilities offered at Kadaleevanam Yoga Academy can accommodate around eighty people at a time. Except in Monsoon season, there is an average of forty participants in the Yoga courses. "The number of people who visit here solely for tourism are meager. But we also arrange facilities for the tourists to visit historical places in Kasaragod and most importantly, Theyyam, the cultural and ritual identity of North Malabar. Most of the people who visit Kadaleevanam wanted to enjoy the serene locality and peaceful environment here. We see a steady increase in the number of participants every year, with more and more people into the idea of healthy natural living".
Kadaleevanam Ayurveda Centre was started in 2019 and is running successfully under the leadership of various doctors and therapists. They offer treatment facilities for various diseases and rejuvenation therapy. The Ayurvedic centre was started because of the scope it offered through Yoga Academy. And today, most of the recipients of Panchakarma Therapy are foreigners who join the Yoga classes.
"We didn't face many challenges in the initial days of set-up. Most of us were civil servants and experts in our own areas. Hence, we got valuable opinions on the steps we should take to make this venture a success. The biggest challenge in managing a Trust is to have like-minded people. We are glad that none of us are solely profit-motivated. All of us appreciate the idea of togetherness, natural, and healthy living. To stay in connection with all the members and the families, we host get-togethers once in a while. Even the inmates at the Academy join us in the activities, like singing, dancing and games," says V P Sreedharan, President of the trust. Kadaleevanam is also registered under the SMiLE unit and receives expert opinions and classes under its banner. "We invite as many investors as possible in the Trust. The only thing is that we could share equal thoughts about the growth of Kadaleevanam. With more people coming in, we believe more ideas pool in and hence the development of the organisation." Kadaleevanam propagates the idea of natural living through yoga and meditation and a healthy lifestyle. More than a business idea, Kadaleevanam is a model that can be replicated.