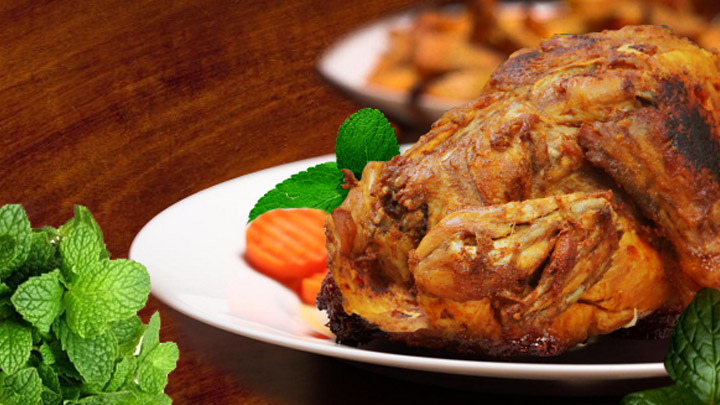 The ideal accompaniment to your Christmas dinner, this Chicken Mint Roast will ensure a rollercoaster ride of flavours for your taste buds.
Ingredients:
Whole chicken - 1 1/2 kg (uncut and unskinned)
Garlic paste - 1 tbsp
Ginger paste - 1 tbsp
Salt - To taste
Turmeric powder - 1/2 tbsp
Red chili powder - 1 tbsp
Garam masala powder - 3 tbsp
Mint (Pudhina) leaves - 1 bunch
Pepper powder - 1 tbsp
Green chilies (big) - 2 nos
Yoghurt/Curd - 1 cup
Method of preparation:
First wash the mint leaves well and then grind together the green chilies and mint leaves into a smooth paste. Keep it aside.
Mix together yoghurt, turmeric powder, chili powder, ginger paste, garlic paste, garam masala, pepper powder and salt in a bowl. Add the mint-green chili paste into the above. Mix them well to make it into a smooth mixture to get the consistency of a thick paste.
Wash the chicken and dry well. Make small slits (not too deep) in the chicken. Smear the above paste nicely on the bird and also into the cavity of the chicken. Marinate this in the fridge for 2 - 6 hrs, the longer the better.
Pre heat the oven to 350 degree centigrade. Place in oven on a sheet of aluminium foil in a baking tray. Ensure that you wrap the chicken with foil to prevent burning. Bake evenly, until the juice runs clear. After about 1 hr, remove the foil and let grill for 20 more minutes at 400 degree centigrade to get that well browned look.
Serve hot with rice or flat bread.