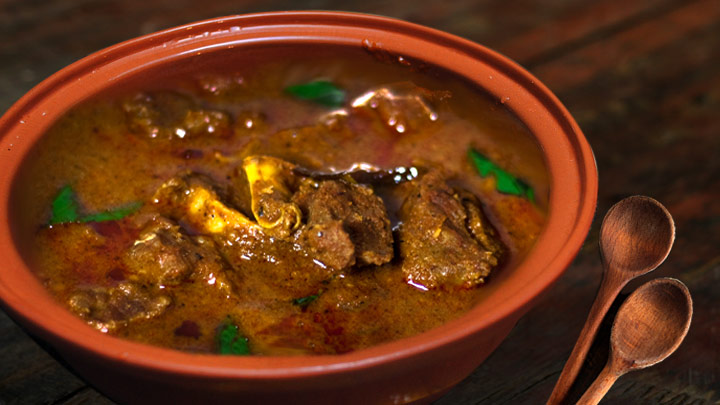 'Varutharacha Mutton Curry' is one of the most famous traditional dishes in Kerala. Simple, delicious and spicy, this dish will go with almost any meal. Here is the recipe of a dish that can never go wrong and is sure to win you praises.
Ingredients
Mutton - 500 gms
Turmeric powder-1/2 tsp
Bay leaf- 1 no
Cardamom pods- 2
Cloves- 2
Cinnamon -2 piece
Ginger (chopped finely) - 1/2 tsp
Garlic (chopped finely) - 5 to 6 cloves
Onion (sliced) - 2 medium
Shallots (sliced) - 1 cup
Green Chilies (cut vertically) - 2 to 3
Curry leaves- 1 sprig
Coriander powder- 1 tbsp
Red Chili powder-1/2 to 1 tsp
Garam Masala powder-1/2 tsp
Fennel powder-1/2 tsp
Tomato (sliced) - 1 small
Oil
Water
Salt to taste
To Dry Roast and Grind:
Grated coconut-1/2 cup
Black pepper corns-1 tsp
For Tempering
Mustard seeds-1/2 tsp
Coconut (sliced) -3 tbsp
Curry leaves- 1 sprig
Method of Preparation
Place the mutton pieces in a pressure cooker along with 1/2 tsp turmeric powder, salt and 1/4 cup water. Cook until mutton is just done. Separate the mutton pieces from the stock and keep aside.
Add grated coconut in a pan and dry roast it until it turns brown. Switch off the stove and add black peppercorns. Grind this to a smooth paste without adding water. Keep this aside.
Heat oil in a pan, add bay leaves, cardamom, cloves and cinnamon. Sauté for a few seconds, now add ginger, garlic, onion, shallots, green chilies and salt. Sauté for about 10 to 15 minutes on a medium flame until it turns golden brown.
Reduce the flame to low and add coriander powder, red chili powder, garam masala and fennel powder along with 2 tbsp water. Sauté for about 5 minutes or until oil separates.
Now add the cooked mutton pieces and mix well until combined. Add the coconut paste, tomato and sufficient quantity of stock. Adjust the salt level at this point. Cover and cook over a medium flame for about 10 to 12 minutes or until the gravy is thick enough.
For Tempering:
Heat oil in a pan, add mustard seeds and let it splutter. Add shallots, coconut slices and curry leaves. Sauté until it turns golden brown. Pour this over the curry.
The Varutharacha Mutton Curry is ready.