Nilambur
---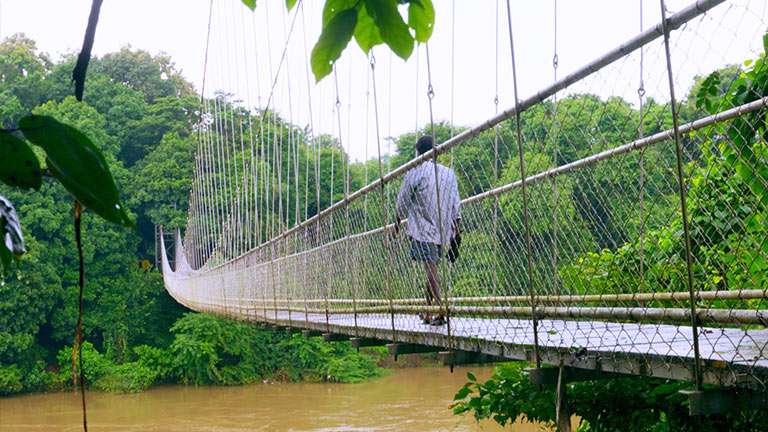 About 53 kilometres from Malappuram lies Nilambur, a place known for teak plantations and tribal settlements. Proximity to the Nilgiri ranges of Western Ghats blesses Nilambur with ample rainfall, waterfalls and lush green rain forests. In addition to teak, there are many mahogany, rosewood and bamboo plantations here as well. 
Teak Plantations
The oldest teak plantation in Nilambur is Conolly's Plot, two kilometres from the town. This sprawling estate has a history dating back to 1846, when the then District Collector of Malabar, H. V. Conolly, ordered for the plantation of teaks across two acres of land. This eventually expanded into a large-scale teak plantation. In course of time, a teak museum was also set up nearby. An interesting landmark near Conolly's Plot is the hanging bridge constructed across Chaliyar River.
Teak Museum
The teak museum near Conolly's Plot was established in 1995 through the joint efforts of Kerala Forest Department and Kerala Forest Research Institute. It is the first of its kind in the world and the only one in the country today. The museum aims to create awareness about teak trees. 
At the entrance to the double-storied museum is the root system of a 55-year-old tree. Apart from this striking exhibit, there are many others as well that speak of the historic and artistic value of teakwood. A magnificently carved door, an intricately designed clock, a traditional granary, a model of the uru [a lounge chair], sturdy sailing vessels of yore and many more objects kept on display reveal the importance of teakwood in our life and culture.  
A Kannimara teak, the world's oldest teak growing in Parambikulam wildlife sanctuary, and a replica of the trunk of the largest known teak in the world are on display. Conolly's Plot is also represented in the museum, with special focus on a giant teak specimen from the plantation. 
The portraits of prominent personalities who initiated the preservation and cultivation of teakwood like H. V. Conolly, Chathu Menon, who was a Conservator of Forests, and many more are placed in the museum.
A butterfly park housing more than 300 species of butterflies, moths and insects, a bamboo grove, and a medicinal plant garden are also part of the museum. Adjacent to the museum is an 800-metre-long nature trail where one can watch various plants and animals in their natural habitat. 
Nilambur Kovilakam 
Nilambur Kovilakam, constructed in the traditional Kerala style of architecture, is the place where the erstwhile rulers of Nilambur lived. 
The palace temple's main deity is Vettakkorumakan, son of Lord Shiva (a Hindu god) in Kiratha (hunter) avatar. Nilambur Paatulsavam is a famous festival here conducted during the Malayalam month of Dhanu (January) where hymns are sung by the members of the royal family and the tribal community.
Nedumkayam Rainforest
Nedumkayam, lying about 15 kilometres from Nilambur, is a little-known tourist destination with beautiful dense forests. An integral part of the Nilgiri Biosphere Reserve, these forests are rich in flora and fauna. During treks, pristine little brooks and exotic wild flowers can be seen around the jungle trails.
At Nedumkayam, one can see iron bridges constructed by the British and the tomb of a British engineer who died there. 
Tribal Settlement and Other Sights
The hilltop of Vallomthode, lying about 25 kilometres from Nilambur, is a tribal settlement also known for its gushing waterfalls. The tribal communities of Muthuvans and Kattu Naikars live this area. 
Adyanpara is another breathtakingly beautiful place in Nilambur having charming landscape and waterfalls.