Kummattikkali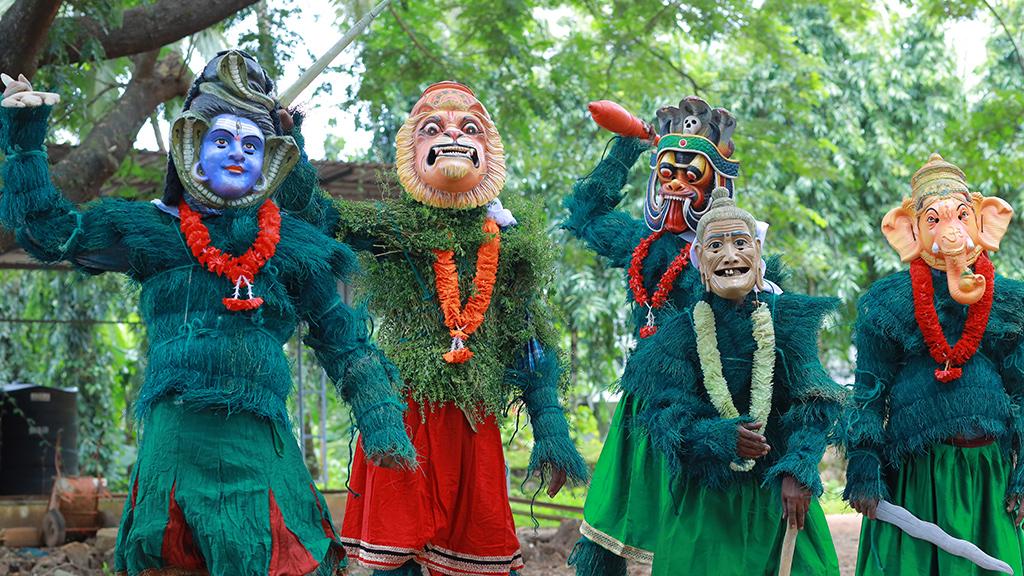 When Onam comes, the Kummattikkali performers of Thrissur entertain villagers as they move through the alleys, singing and dancing. Kummattikkali, performed to welcome Onathappan, has its roots in the history of folk arts.
Along with Thrissur, the performances are also held in the districts of Palakkad and Wayanad. In these places, Kummattikkali is performed during the month of Makaram and Kumbham as a part of the harvest festival. Some of the Kummatti performances in Palakkad are famous. Legend has it that once Siva decided to test Arjuna who was meditating to be blessed with a Pashupatastra (weapon of lord Shiva) by him. Lord Shiva, who had disguised himself as a savage (kiradaroopam), fights with Arjuna over the boar that had been hunted down. Shiva appears in front of a defeated Arjuna and gives him the Pashupathastra. The bhootaganas, or Siva's attendants, who arrived there, danced in order to please the Lord. It is popularly believed that Siva and Parvathy later indwelled in the Vadakkumnathan Temple in Thrissur and wished to see the dance of the bhootaganas once again. Immensely satisfied, Siva asked the bhootaganas to amuse his devotees by visiting their homes when Mahabali was to arrive for Onam.
Gods, humans and animals appear in Kummattikkali. The characters or faces that the artists usually adorn include that of Siva, Brahma, Rama, Krishna, Ganesha, Kirathamoorthy, Dhaarikan, Goddess Kali, Kaattalan or wild man, Garuda, Sugreeva, Bali, Apoopan or elderly man, and Sanyasi or hermit. Some of the Kummatti performers also wear the faces of the puli or the tiger, theyyam and bulls. The Kummatti who wears the mask of a motherly figure (Talla Mugham Kummatti) leads the performance. These days fanciful costumes along with other folk art forms are also used to entertain people. A Kummatti mask costs around Rs 20,000 to Rs 50,000. Kummatti masks can weigh up to 10 kilograms. Earlier, the masks were made from the leaves of the areca palm tree.
Later, artists began to use light woods like kapok, kumil tree and others. As these are also prone to cracking, the Kummatti masks are now made with the wood from the jackfruit tree.
The costume of the Kummatti is prepared by tying the whole body with parpataka grass (fine leaf fumitory). It is also known as Kummatti grass. It is collected and braided in a particular manner and then tied on the body with rope and the stem of the poison-nut tree.
While performing Kummattikkali, they move from house to house from the first day of Uthradam to the fourth day of Onam. The oldest of the Kummattikkali, which has passed down through the centuries, belongs to parts of Thrissur like Kizhakumpattukara, the North, and the South. Kunisseri Kummati among Kummatti festivals is the most famous in Palakkad. Kunissery Kummati has a historical connection with Samoothiri. Today Mundur Kummatti, another form of Kummatti, is also very popular.