Onathallu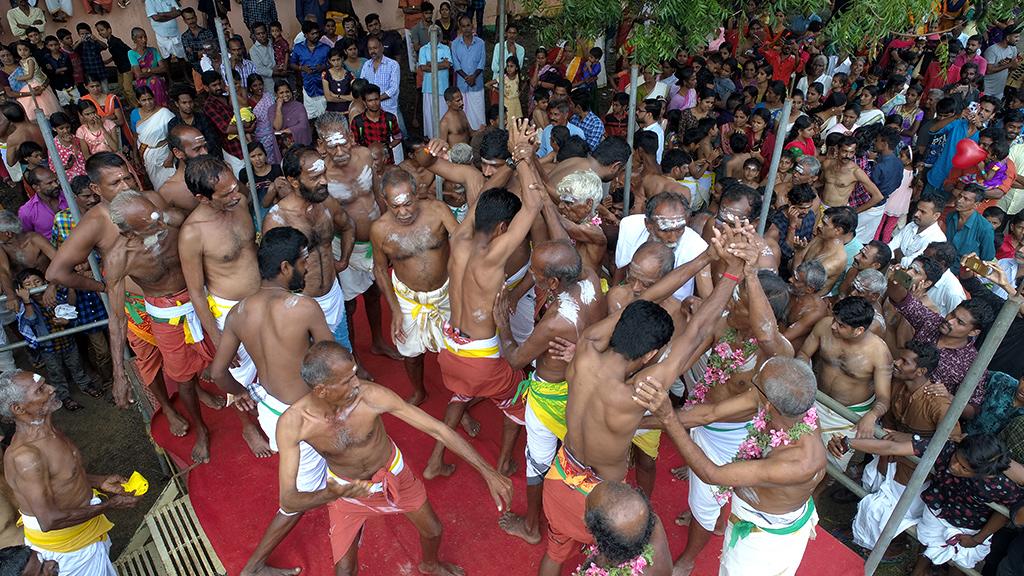 Believed to have originated in central Kerala, Onathallu is one of the oldest games of the Onam festival, going back to the days of Cheraman Perumal. It is a form of martial arts and exercise using one's hands and body, and was performed as an entertainment for the upper-class people of the village. It is also viewed as an opportunity to showcase the knowledge and the strength of the martial artist, obtained through the lessons and treatments during the month of Karkidakam. This martial art is used as a form of exercise by the soldiers of the village head or the king.
Onathallu has been mentioned in the novel Madurai Kanjiyil written by Mangudi Maruthanar in AD II. The performers are only allowed to use the palm of the hand to hit and block. Punching and kicking is not allowed in the game. The game will take place in a 14-metre diameter dung-waxed field with the two players standing outside the ring. This battle ring is called 'Attakala'. The players are required to greet each other and bow down to their gurus/teachers to take blessings. Two players enter the field and lock their hands with a shout of "Haiyathada", then pull hard and release. This marks the start of the fight. The players cannot leave the field until someone loses. The referee, called 'Chathikar' controls the flow of the game and can intervene if the fight goes out of control. After the game, the captain takes a headcount and the soldiers head to the pool for a bath. 
Onathallu is mostly conducted in Thrissur district and is most popular in Pallassana. The history of Onathallu in Pallassana is that the local king, Kurur Nambidi, was tricked and killed by a king from the neighbouring region which led to the former's enraged countrymen letting out battle cries. 
The 'Onathallu' has been held in Kunnamkulam since the time of Samoothiri. It is also popular in Kozhikode, Malappuram and other Malabar regions.