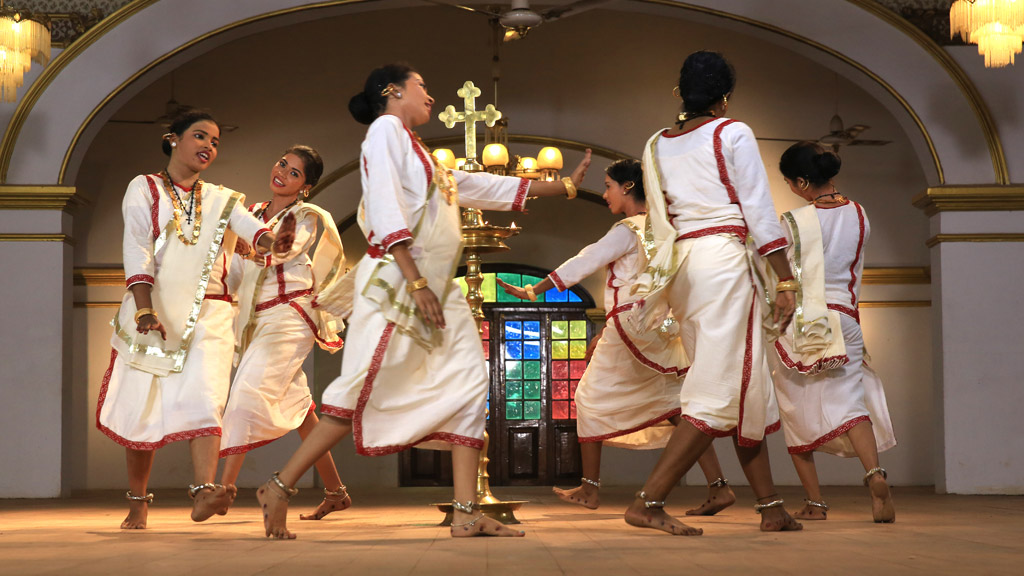 Margam Kali is the most popular Christian art form in Kerala. Presented in a group mainly by women, the performers should have a sense of rhythm and should be agile, to make a performance successful. This is presented mostly at Christian wedding ceremonies and also for Feasts at churches.

Twelve persons, reminding the 12 Apostles, with peacock feathers in their head, stand around a traditional lamp for the performance. Traditionally performed by men, the performance begins with a Mangala Ganam (song). This art form that was encouraged by the Knaya sect is now being performed by women too. Men wear dhothi with filigree work, a head gear with filigree work, and a red silk cloth around the hip. Christian women wear their traditional attire, consisting of chatta, mundu, kavini, mekka mothiram (an earring worn on the top part of the earlobe), and bangles on the hand and the ankle. The song is sung by a person or rendered by a chorus. The tempo of the song and the performance, go up in the final phase. No accompaniments are used for the performance.
The Margam Kali Pattu is written in about 4000 lines in different meters. The theme of the song is the miracles performed by St. Thomas at Malankara. The songs are believed to have been written in the 17th century by Kallissery Itti Thoman Kathanar. It is also said that he compiled a traditional work, which closely resembles the Yatra Kali Pattu of Namboothiris. Those performing Margam Kali are expected to be skilled in martial arts.

The Kerala Folklore Academy and the All India Institute for Performing Arts are giving due encouragement to this art form.