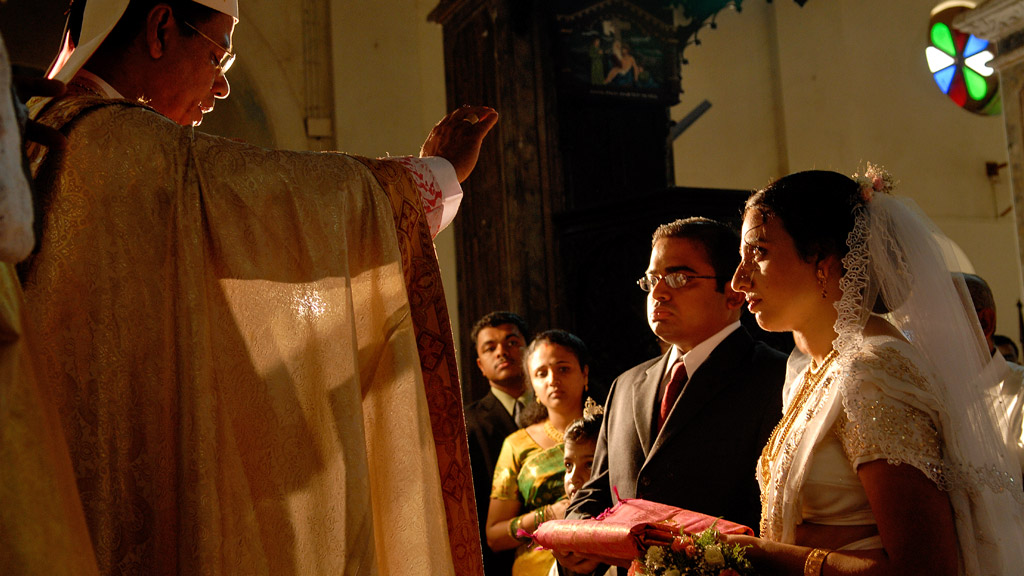 Christian marriage is based on Jewish tradition. It sticks to one man- one wife norm. The Kerala Christians give emphasis to the sanctity of nuptial and family relationships. Initially, priests had no involvement in Christian marriages. When the church acquired definite form and expression by the 4th century, marriages began to be conducted by priests.
The consent of the father of the bride or the mutual consent of the couple was the cornerstone of a marriage. Rituals such as communion service and blessing were added to the marriage ceremony by the 11th century. Formally asking the couple for their consent to get married, which ceremony is called 'Manasammatham' is considered quite important. The biblical verse referring to the two becoming one body hints at the sexuality in the marital relationship. It was in the Trend Synod that marriage acquired the status of a sacrament. The Synod insisted on the presence of a priest and two witnesses at a marriage. That norm is still in force, and the couple now signs the marriage register too at the church.
Till recently parents used to fix the marriage of their wards and get them married on their attaining maturity. Dowry system was in vogue and a portion of the dowry was given to the church. This share was known as 'Pasaram.'  Marriage brokers acted as intermediaries. The novel, Parishkarapaathi by Kunnukuzhiyil Kochu Thommen Apothecary, published in 1892, gives the marriage rites of the Christians of Travancore in great detail. Parishkara Vijayam, a novel by Variath Chori Peter in 1901 portrays the customs followed in a Latin Catholic marriage.
The declaration by the priest in the church regarding the couple's intention to get married, otherwise called 'Vilichu Chollu' is one of the important requisites of a marriage, which ensures that there is no dissenting note in the immediate community. Since birth and death registers are maintained in churches, the mother churches have the system of exchanging 'Kuri' or a letter having details of the couple.  All these customs, as well as other requisites such as confession, listening to prayers etc. are all detailed in the Kalpana Varthamana Pusthakam, circulated by Paramakkal Governador in 1791. Christians never encouraged child marriage. Marriage to an older woman was also not supported. Kerala Christians attached importance to blood relationships and hence marriage between cousins till seven times removed was not accepted.
Knanaya Christians have a custom called Chantham Charthu, a remnant of the Jewish tradition.  A barber would reach the residence of the bridegroom on the previous day of the marriage, apply oil, and cut his hair. The song sung as part of the ritual is known as Mar Thoman Pattu (Daniel, Mathew, Kerala Christava Samskaram). The bride applies 'mehendi,' a dye prepared from the plant Henna. The ritual 'Nellum Neerum,' observed till recently was held once the couple reached home after the wedding. Ululating was something adopted by the Hindus.  Rice was always served on a plantain leaf.