Aadivedan Theyyam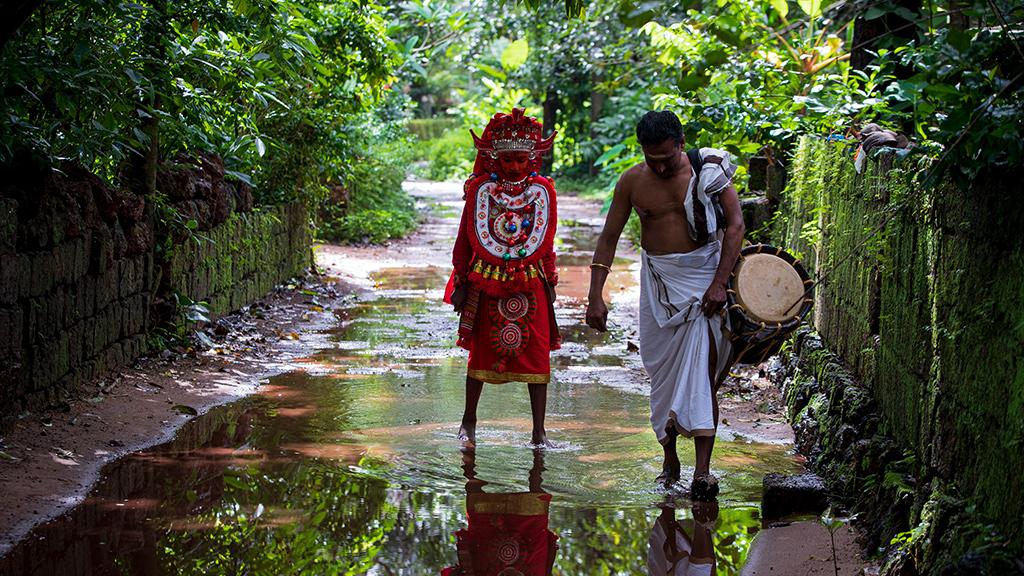 The ritualistic art forms of Onam are more prevalent in the north Malabar region of Kerala. In the land of Theyyams, it is time for 'kutti theyyams' as well. In Palakkad and Kolathunadu, 'Aadivedan Theyyam' visits households to eliminate the miseries of Karkkidakam and welcome a prosperous Chingam. 
Aadivedan symbolises the Siva-Parvathy concept. Aadivedan arrives as single and double forms. The single form symbolises the 'Ardhanareswara' concept. It also arrives as two – Aadi and Vedan. Vedan arrives first. Towards the middle of the month, Aadi also makes the entry. Kids of 'Vannaan' tribe enact the role of Aadi and kids of 'Malayan' tribe don the role of Vedan. 
Aadivedan is accompanied by Chenda (a percussion instrument) and songs. During travel, no music accompanies the Theyyam. That happens only when it arrives in front of households. After the performance, 'Guruthi' water is poured around the 'Nilavilakku'. It is believed that this eliminates all sins. Aadivedan is offered money, rice, coconut and cucumber as gift. 
Aadivedan Theyyam is also referred to as 'Karkkidothi'.