From exotic beaches to serene hill stations, Thiruvananthapuram is a place that has treasures to slake your thirst for adventure, give you solace and mesmerize you with their beauty. One among the beautiful destinations in the capital city of Kerala is Madavoorpara, a peaceful hilltop that allures Nature- and culture-lovers alike as much with its endless charm as with its historical significance.
Madavoorpara is currently one of the prime tourist destinations in the city that highlights the core values of Responsible Tourism Mission. The rock-cut temple here, that dates back to 8th century CE, is believed to have been built by a Buddhist monk. You can also see inscriptions done in Vattezhuthu, an ancient Malayalam script, on a pillar here. The sanctum sanctorum carved out of rock holds the idol of Lord Shiva.
The area was taken over by the Department of Archaeology in 1960. Situated near Kazhakuttam in the capital city, this place is now a proud symbol of Responsible Tourism Mission. The Mission implemented several Experiential Tour packages here that made this peaceful village more popular among the tourists. Scores of experiences that range from screw pine weaving to pappad making wait for you in this sleepy hamlet!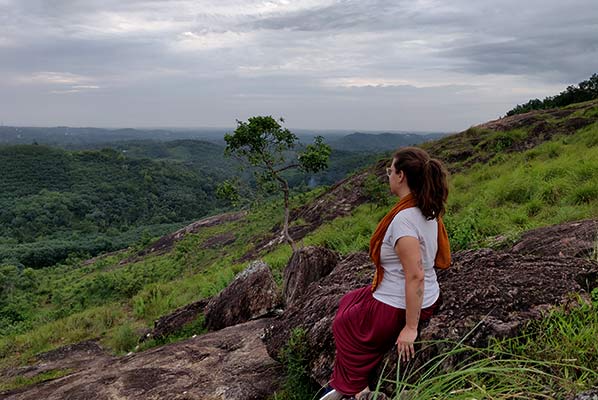 A trip to this 300-ft-high natural wonder with a rich heritage will grant you sights of vast coconut palms, stunning sunsets, and clouds that hang at almost reachable height. A 100 m long bamboo bridge here is a sight to behold. Besides the bridge, the bamboo huts atop the rock, that offers a panoramic view of the lush green surroundings, stand apart as the main attraction of the place. A sense of oneness with Nature is inescapable here. A park that awaits children with its swings and slides is an added attraction for those who choose to visit Madavoorpara with their families. Atop this rugged hill, near a leafless white-branched tree, is the Ganga Theertham, an evergreen sacred pond.
---
The village life experiences offered by Responsible Tourism Mission in Madavoorpara are sure to take you on a unique journey. The natives of this area cling to several traditional professions. Watching the expertise of the villagers in weaving the palms fronds, making metal weapons or doing other handicraft work will certainly tempt you to take a shot at them.
The package also offers you a journey to the serene environs of Santhigiri Ashramam, an architectural marvel, and also a gentle trek to Vellanikkalpara. The sheer greenery of this place is overwhelmingly beautiful.
The Village Life Experience of Madavoorpara awaits you, ready to fill your heart and mind with true wonder and delight.