Oppana
---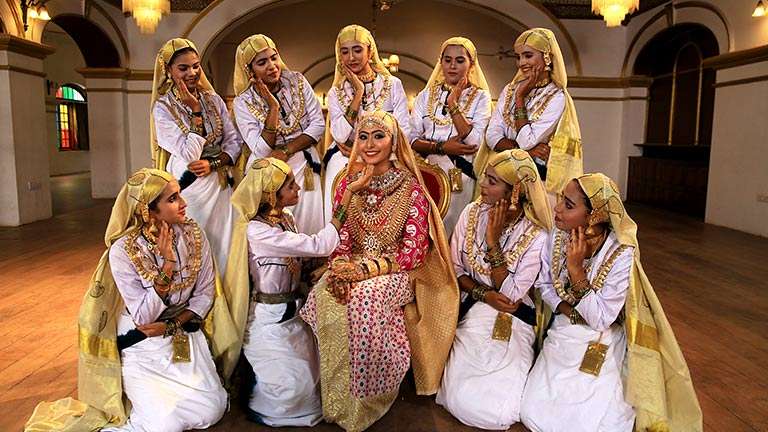 A bride draped in dazzling attire and decked with ornaments sits at the centre. Her friends and relatives sing and dance around her, clapping their hands rhythmically to the tunes of a Mappilappattu (traditional Muslim folk song). This is Oppana, an entertainment dance form prevalent among the Muslim community, usually performed by women during weddings. A celebration of happiness, this dance is also performed on Maarkkakalyanam, Vayassariyikkal and Naalppathukali, marking important moments in the life of a woman.
This dance is also performed by men, on some occasions, to entertain the bridegroom. The origins of Oppana can be traced back to Ishal, a musical element of Mappilappattu. The art form which is considered to be at least five centuries old requires a minimum of ten people to perform. Instruments like harmonium, ganjira, tabla and elathalam add more charm to the graceful movements of the dancers.
The style in which the Oppana is performed might vary since there are two types. Oppana Chaayal and Oppana Murukkam. During Chaayal, there is no clapping of hands, whereas when Murukkam is performed, rhythmic clapping accompanies the song.