Yakshagana
---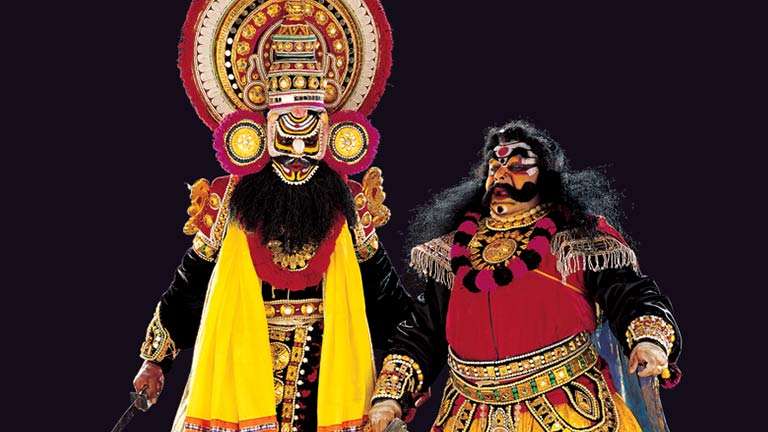 Yakshagana is a rich and time-honoured art form performed in the South Canara districts of Karnataka and Kasaragod district of Kerala. The performances are based on mythological episodes taken from epics like the Ramayana and the Mahabharata, as well as the Bhagavatham. The name Yakshagana translates to "music of celestial beings". Originally Yakshagana was known by different names in different regions. It was formerly called Bayatala by some people in Karnataka. In Kannada, Bayatala denotes an art form presented in open air. Therukoothu of Tamil Nadu, Kutiyattam and Chakyarkoothu of Kerala, and Veedhinataka of Andhra Pradesh can be considered as sister art forms of Yakshagana.
This theatre dance drama combines dance, music and dialogues. The artistes wear elaborate make-up and costumes, and certain unique stage techniques are followed during the recital. The story is narrated to the accompaniment of background music, played using percussion instruments, with the singers and the artistes performing individually and in unison to create the celestial musical dance drama. The instruments used are chenda, maddalam, jagatta or chengila (cymbals) and chakratala or elathalam (small cymbals). The elaborate and colourful costumes along with the stage craft are the most alluring elements of Yakshagana. The costume consists of a headgear, kavacha that decorates the chest, armlets for the shoulders and belts made up of light wood and covered with golden foil.
Yakshagana is generally presented in Kannada, but also performed in Malayalam and Tulu languages on certain occasions. The music, dialogues and dance components in the performance are sometimes improvised. Depending on the experience and ability of the performers, there will be differences in the dance performances and also the number of dialogues. The performers may sometimes even get involved in philosophical debates or arguments, without falling out of the ambit fixed for the characters.
Yakshagana is believed to have evolved from the ancient Bhuta worship prevalent in South Canara districts of Karnataka and Kasaragod. Theyyam is also a manifestation of this Bhuta worship. But it is evident that Yakshagana is also influenced by folk dance and Sanskrit drama. Bharata's Natyasastra has definitely influenced this art form. Thus, Yakshagana cannot be categorized into folk, classical or rural forms since it incorporates elements of each or all of these.