Visit Keravan Kerala microsite
Now start exploring God's Own Country in the comfort of a luxury Caravan!

Worry no more about your stay while planning your trip to Kerala. We are all set to welcome you for a caravanning experience.

Three decades after the historic houseboat experience, Kerala Tourism is ready to bestow you a new, safe, customized and closest-to-nature travel experience. Keravan Kerala is developed on a Public-private partnership mode with private investors, tour operators and local communities being key stakeholders.

The two major components of this activity are Tourism Caravans and Caravan Parks. While the first involves specially-built vehicles for travel, leisure and stay, the Caravan Parks are designated places to park the vehicles and enable the visitors to spend a night or a day or station for an extended period to explore the destination.

Caravan Tourism will also promote Responsible Tourism activities for sustainable growth and for the benefit of the local communities, promote eco-friendly practices and market for local products.

There will be two types of caravans. In one model, two guests shall be accommodated, while the other is for a family of four members.

The tourism caravans will have all the necessary facilities for a comfortable stay such as sofa-cum-bed, kitchenette with fridge and microwave oven, dining table, toilet cubicle, partition behind the driver, Air-conditioner, internet connectivity, audio-video facilities, charging system and GPS.

Eco-friendliness being a major feature of Caravan Tourism, preferably Bharat Stage VI compliant vehicles will be pressed into service. Assuring complete security of the guests, there will be IT-enabled real-time monitoring of caravans.

A fool-proof approval mechanism is also put in place to grant approval for the operation of caravans based on the procedures set by the State Motor Vehicles Department in accordance with the Central Motor Vehicles Rules.

The caravan parks are to be developed in the private sector, public sector or in the joint sector. The configuration of parks will vary from location to location, even though the fundamental attributes remain the same.

A caravan park will be a completely safe and secure zone offering a hassle-free and stress-free environment to tourists, protected with necessary features like compound walls, adequate security and safety arrangements, patrolling and surveillance cameras. The Park authorities will maintain effective coordination with local authorities and medical establishments to attend to medical emergencies.

The Bharat Benz along with Autobahn Trucking rolled out a new feature-laden vehicle, the first-of-its-kind in the coach industry for the Department of Tourism, Kerala. The customized stylish vehicle, equipped with all the accessories for a peaceful travel and comfortable stay, was jointly launched by Mr P A Mohamed Riyas, Minister for Tourism and Mr Antony Raju, Minister for Transport.
Download and read Government of Kerala's Caravan Tourism policy - Malayalam • English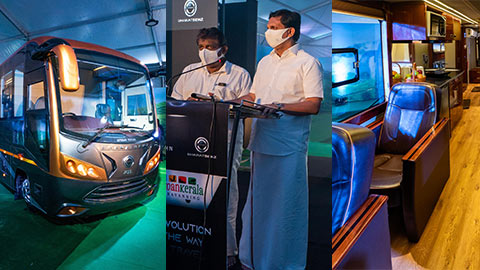 Keravan Kerala Photo Gallery
Check out the stunning images of Tourism Caravan
Keravan Kerala Video Gallery
Get to know more about the Caravan Tourism project.