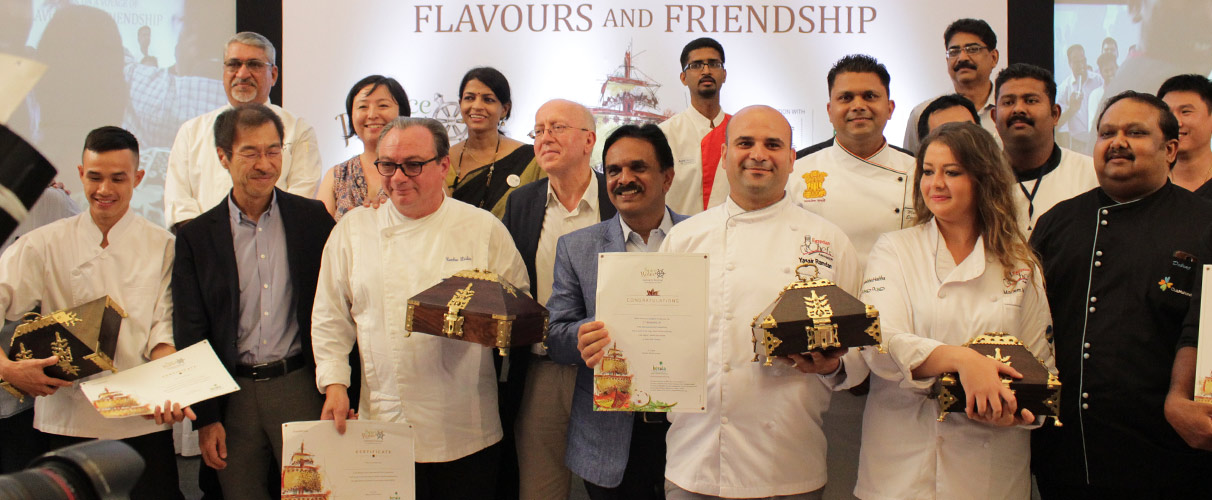 Event Photos
Press Releases
The battle of flavours draws to a close
The curtains came down for the four-day Spice Route Culinary Festival, a unique initiative to rekindle the rich legacy of trade and cultural exchange of the countries along the ancient spice route. The French duo Didier Corlou and Le Minh Manh took home the prize for the best international chef team.
The winners of the culinary extravaganza were felicitated at a glittering valedictory ceremony at the KTDC-run Bolghatty Palace Hotel.
Prof. K. V. Thomas, MP who presided over the function honoured all the international participants with mementos. Lauding the initiative, Prof. K. V. Thomas, who was the Guest of Honour remarked that tourism development should be the development of the people of the region.
Delivering the summary of the festival, Mr. U. V. Jose, Director, Kerala Tourism, said that the Spice Route Culinary Festival came into being when it was decided to implement the next level of Muziris Heritage project. "It was decided to use food as the first connecting link between the 31 countries along the ancient spice route which will later be followed by cultural, educational, research and actual physical circuit," said Mr. U. V. Jose.
The Spice Route Culinary Festival was held as part of the ambitious Spices Route project-an initiative of Kerala Tourism in association with UNESCO.
The Egyptian team of chefs Yasser Ramadan and Mariem Magdy were adjudged first runners-up with the team from Thailand, Chef Songpol Vithanwata and Chef Jareuk Sriaroon, rounding out the list of winners.
In the 'Kerala Chef' competition in the professional category, Chef Prakash Sundaran of Kochi bagged the top prize while chefs Ashok Eapen of Thiruvananthapuram and Siyad C. A. from Ernakulam bagged the second and third prize respectively. In the amateurs' category, Sanjay Sunny from Kannur took the top slot with Lisa Joji from Aluva and Saida Abdul Salam of Kochi coming in as first and second runners-up respectively.
Leading chefs from Egypt, Iran, Lebanon, Germany, Spain, Portugal, Thailand, Oman, Turkey, Qatar, Netherlands, France, Malaysia, Italy and Japan battled it out in the festival. The jury comprised ITC Corporate Chef Vijay Nagpal, Mahindra Resorts' Executive Chef Debraj Bhaumik and Montu Saini, currently Executive Chef to the President of India.
As the top international chefs whipped up their cuisine with a dash of Kerala spices, the event brought flavours from across fifteen countries in one platform and enabled a healthy exchange of culture and ideas. The festival saw 17 national teams from 15 countries along the spice route battle it out with Kerala spices. The event also helped showcase Kerala Cuisine to the world, identify culinary talent in Kerala and enabled exchange of ideas.