KERALA TOURISM NEWSLETTER
Sargaalaya Arts and Crafts Village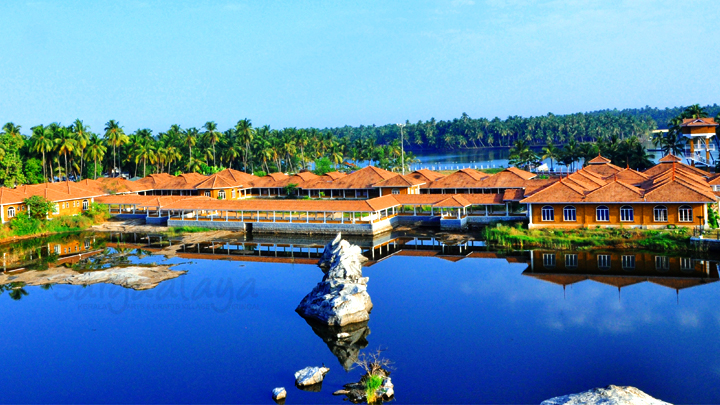 History encounters you in lots of ways at Iringal. It might come to you as a whiff of a war fought in the bygone era, the renowned resistance of Kunjali Marakkar against the Portuguese, or it might resound in your tympanum as the squall of the ghosts of giant granites, splintered ruthlessly by gunpowder.

Iringal, a pretty little village near Vadakara in Kozhikode has a special place in the history of Kerala. We are inviting you to Iringal not to get amazed by the glorious past of this place but to experience and enjoy the unrivaled skills of the traditional craftsmen of the State.

Sargaalaya, the Kerala Arts and Crafts village at Iringal in Kerala is an initiative of the Department of Tourism, Government of Kerala. It is an exclusive place where you can not only pick a product fashioned by the traditional artisans of Kerala but also learn one or two lessons in the subtleties of crafts-making. Conceptualized as a tourist destination, Sargaalaya was developed and implemented on the Responsible Tourism model.
Put up on a sprawling 20-acre land on the shores of the Moorad River at Iringal in Kozhikode, the craft village has 60 stalls housed in beautiful cottages that are environment-friendly and ethnic in design. The management of the village is vested in the hands of the Uralungal Labour Contract Cooperative Society (ULCCS).

Combining the streams of art and business, the village throws up a comprehensive platform for exhibition, sales and craft-making. The uniqueness of the craft village is that it is the only place where a tourist can witness and learn in person the nuances of crafts-making and skills of the traditional artisans of Kerala. You surely wouldn't miss a chance like this, especially if you have a great passion for art and craft. You can also carry these fascinating crafts as a souvenir to your home at a reasonable price. And if you are into craft business you can establish longstanding business relations with the artisans of Kerala. Being set up by the Department of Tourism, the venture ensures brand protection to foreign entrepreneurs and local artisans.

The wide range of products displayed here is crafted with different raw materials ranging from less expensive natural options to modern alloys. There are artifices designed with banana fibre, coir, bamboo, sand, coconut shells, husk, palm leaves, coconut leaves and screw-pine. The Crafts Design and Technology development centre at Sargaalaya provides training for craftsmen on the latest techniques of production and encourages innovation in the traditional system.

Sargaalaya also provides opportunity for the tourists to enjoy classical and folk art forms of Kerala according to their preference. The tourists can also enjoy boating in the Moorad River. A tourist circuit will soon be developed connecting Kunjali Marakkar Museum, Kolavipalam Turtle Hatchery and Vadakara Sandbanks.

For more details please contact
'Sargaalaya' Kerala Arts & Crafts Village
Iringal P.O.
Kozhikode, Kerala - 673521
Tel: +91 496 260 6015
Mob: +91 94463 09222
Email: sargaalaya@gmail.com
Website: www.sargaalaya.com

Getting there:
Nearest railway station: Iringal (1.5 km)
Nearest airport: Calicut International Airport, about 23 km from Kozhikode town.