KERALA TOURISM NEWSLETTER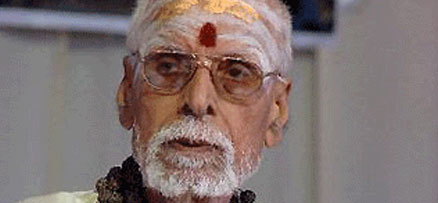 Dakshinamoorthy Swamy
His magical notes have been resonating in the hearts of music lovers for more than fifty years; he has breathed life into more than 850 songs in different languages; more than 100 Indian cinemas were blessed with his mellifluous compositions. The person we are talking about is V. Dakshinamoorthy, popularly known as Dakshinamoorthy Swamy, a living legend in the field of Carnatic and film music in south India.
Born in Alappuzha district in the year 1919, Dakshinamoorthy's passion for music was identified very early by his mother who nurtured the musician in him with keerthanas (compositions) of Thyagaraja Swamikal, one of the greatest composers of Carnatic music. Completing his matriculation, he moved to Thiruvananthapuram where he climbed the greater heights of Carnatic music with the aid of his guru Venkatachalam Potty.
The veteran music composer kicked off his career in the year 1950 with the Malayalam feature film Nalla Thanka. In the following years, he sailed through the undulating waves of film music, turning each and every bit that came his way into gold. Some of the precious gems that he tendered en route include kattile pazhmulam from the film Vilaikku Vangiya Veena; pattu padiyurakkam njan from Seetha; swapnangal swapnangale ningal from Kavyamela; uthara swayamvaram from Danger Biscuit and vathil pazhuthilooden from Idanazhiyil Oru Kalocha.
Swamy never squeezes the lyrics to match the desired music; rather, he gently caresses the lines with his tunes to bring out the melody enshrouded in them. His long-lasting association with lyricist Sreekumaran Thampi was one of the most fruitful combinations in Malayalam film music. Swamy has also been a teacher for many prominent singers and music directors like P. Susheela, Kalyani Menon, P. Leela and the great Ilayaraja.
Rather than basking in the glitter and glamour of film industry Swamy often ventured in to the overpowering whirls of Carnatic music and rendered Carnatic performances throughout his life. Awards and accolades have come his way several times. Some of them include the Kerala State Film Award for best music director, J. C. Daniel Lifetime Achievement Award and Swati Sangeetha Puraskaram, the highest honour for musicians instituted by Government of Kerala.