KERALA TOURISM NEWSLETTER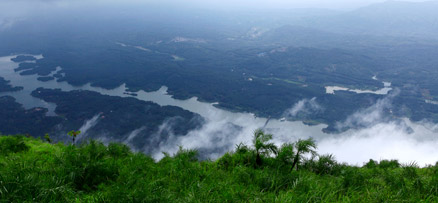 Ilaveezhapoonchira
The promise of a green-carpet welcome and a holiday amid the verdant landscapes are something which await all travellers to Kerala. But a ride to this beautiful valley in Kottayam district is something that redefines all your notions of greenery. The place is fittingly named as Ilaveezhapoonchira, meaning 'a floral bund sans leaves'. Well, how would a place get littered with foliage if there are no trees? That's what makes this green dreamland different from the rest of the State.
Spread over thousands of acres, Ilaveezhapoonchira is located at a distance of 55 km from Kottayam and 20 km from Thodupuzha. Guarded by three fascinating hillocks – namely Mankunnu, Kodayathoormala and Thonippara, each rising to about 3200 feet above sea level – this virgin land is a perfect outing for trekking enthusiasts. It is also deemed as one of the best spots in Kerala to behold the charisma of sunrise and sunset. The place can be easily accessed both from Pala (Palai) in Kottayam and Thodupuzha in Idukki.
One cannot help but wonder about the etymology of the name of this beautiful valley if one is visiting here during summer time. There won't be any such bunds or ponds at the spot when the summer is at its peak. Legend has it that Pandavas, the heroes of the Indian epic Mahabharata, had a sojourn here during their twelve years of exile in forest. Their wife Draupadi took a bath in the pond that was here at that time. Enticed by her beauty some devas (supernatural beings residing in heaven) gave in to their voyeuristic impulses. Indra, king of devas, came to know about this and built some hillocks with flowers around the pond to stop devas from this indulgence. Since there were no trees in the surrounding hills the pond was free of leaves and hence got the name Ilaveezhapoonchira.
When the monsoon kisses the land with all its love the valley between the hillocks fills up to bring the mythical pond back to life once again.
Tourist information centre, Contact DTPC Kottayam Ph: +91 481 2560479
Stay: DTPC Rest House at Ilaveezhapoonchira
Getting there:
By road: Take a bus from Thodupuzha to Kanjar (15 km) on the Moolamattam road. From Kanjar, only four-wheelers go to Ilaveezhapoonchira (7 km).
Nearest railway station: Kottayam, about 55 km
Nearest airport: Cochin International Airport, about 76 km