KERALA TOURISM NEWSLETTER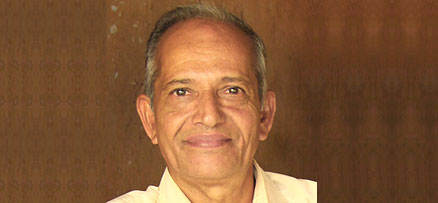 When dedication embraces mastery: Kathakali Maestro Inchakkadu Ramachandran Pillai
Amid the resplendent make-ups, elaborate costumes and the dazzling kireetam or huge headgear of the classical art form Kathakali, there stands one who breathes life into this all pompous and splendid art form with his rhythmic coordination of hands, feet and eyes. To be placed in the upper echelons of the Kathakali acting is indisputably an outcome of mastery, dedication and hard work. Inchakkadu Ramachandran Pillai the finest living exponent of the Southern school of Kathakali has won a perpetual place for himself among the great Kathakali artists.
Sri. Ramachandran Pillai was born in the village Sasthamcotta of Kollam district to Kothampalli Veettil Sankaran Nair and Chellamma on 21st March 1949. He received his education in the Gurukula system, the ancient Indian concept of educational activity in which students resides with the Guru or teacher. He was the student of the late Mankulam Vishnu Namboodiri, the doyen of the southern school of Kathakali and has often hailed as the most brilliant student who assimilated the distinctive features of the Guru in detail. When Margi, an organization dedicated to the revival of Kathakali and Kutiyattam, two classical art forms of Kerala was established in 1971 he assisted Mankulam Vishnu Namboodiri at the institute and rendered commendable services as the chief instructor of Vesham, the Principal of Margi and later as Visiting Professor.
An outstanding Kathakali artiste, Sri. Ramachandran Pillai is much-admired for the adroitness in the display of Mudras, inspired demonstration of various Rasas and the non-deviation from the essential character traits reflected through posture, mobility, and acting. The resplendent make-ups, known as Vesham, typify the character in Kathakali. Inchakkadu is exemplary in vivaciously presenting different characters like Pacha (green), Kathi (knife), Vella Thaadi (white beard) and Minukku (radiant). He has riveted the attention of many with his unique Kathi Vesham. He has portrayed on stage diverse characters like Duryodhanan of Duryodhanavadham, Ravanan of Bali Vijayam and Ravana Vijayam, Hanuman of Kalyanasaugandhikam, Duryodhanan of Nizhalkoothu, Banan of Banayudham Keechakan etc. with great expertise.
Sri. Ramachandran Pillai's tinkling anklets trod many a stage in and out of Kerala bringing him laurels from far and near. He has been to many foreign countries including Sri Lanka, Sweden, Italy, France, Germany, Japan, Tunisia and Switzerland. A recipient of many awards and fellowships he has been honoured with Kerala Kalamandalam Fellowship, the Kerala Sangeetha Nataka Academy Fellowship, Kumar Gandharva Fellowship, HRD Senior Fellowship instituted by the Ministry of Culture, Govt. of India and many others. He has earned for himself a long array of students and the prominent among them includes Margi Vijayakumar, Margi Harivalsan and Margi Vijayan.