KERALA TOURISM NEWSLETTER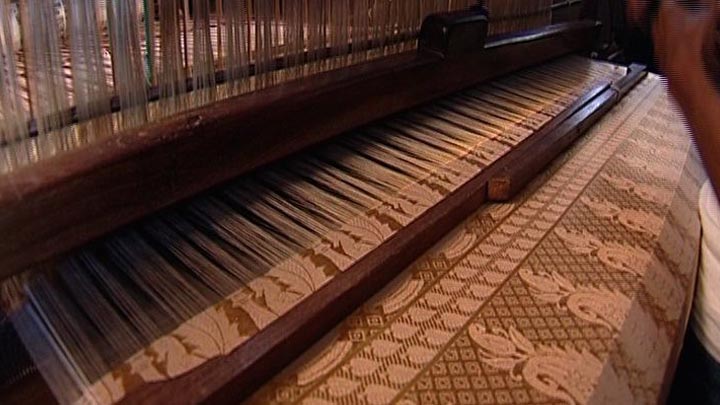 Looms that weave tradition with trend
Here golden yarns entwine with hard work, faith in the Divine, dedication and mastery to bring forth some of the finest handwoven Kasavu (zari, a type of gold thread used decoratively on Indian clothing) fabrics. The charisma of the magical rhythm of the looms invade your spirit as you walk through the village, Kuthampully. The dancing yarns in the looms of each house give birth to elegant Kasavu clothings that grace the soul of this village.
Kerala handloom products having geographical indication tags such as Chendamangalam sarees, Kuthampully sarees, Balaramapuram sarees, Kasaragod sarees and Kannur furnishings are fabrics that are popular among the public. The fabrics are coloured with lasting quality and certified by the Geographical Indications Registry. Among them Kuthampully handloom is a popular brand, well accepted and recognized.
Kuthampully Handloom Industrial Cooperative Society was registered in Kuthampully village, on the banks of the legendary Bharathapuzha, in the Thiruvilwamala Panchayat , in the year 1972 with 102 members. They followed the traditional path in the early days and their different kinds of Indian clothings like kasavu double dhoti, veshti and set mundu became popular. Later on, embroidery techniques have been deftly applied on traditional Kuthampully sarees to produce designer ones. At present around 3000 people are employed in this sector mostly through cooperatives and as small-scale entrepreneurs.
Traditional handloom is part and parcel of the village life in Kuthampully. The forefathers of Kuthampully came from Mysore five hundred years ago for weaving clothes for the erstwhile dynasty of Cochin and they never returned to their land. Each and every house in Kuthampully is supplied with the materials needed for weaving and wages for weaving. The handwoven fabrics are on display to be sold in the village shop. Kuthampully Sarees and other handlooms are favourites especially among womenfolk not only in Kerala, but also in other parts of the country. The borders of Kuthampully sarees are decked adroitly with the figures of Kathakali, Lord Krishna and many other images.
The handiwork of traditional weavers is blended with contemporary concepts to offer creative value-addition to handloom products. At Kuthampully each house is in fact a kasav shop, a splendor adorned in golden threads. The rhythm of the looms weaving together the lives of the people resonates in the air. Yarns move gently in the looms to gild generations to come.