KERALA TOURISM NEWSLETTER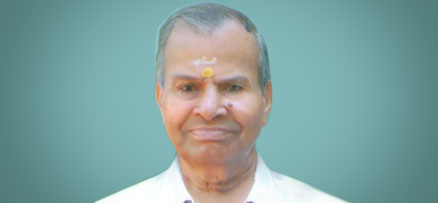 Painkulam Damodara Chakyar
As the dusk succumbs to darkness, the koothambalam or the temple theatre at some of the temples in Kerala are illuminated by traditional brass lamps to commence an art form, whose tradition dates back a couple of millennia. Kudiyattam, the only surviving specimen of the ancient Sanskrit theatre, has a history that dates back to some 2000 years. In this article, we introduce you to one of the contemporary masterminds in the field of Kudiyattam who, because of his relentless passion, reinterpreted and redefined the contours of this art form – the renowned Painkulam Damodara Chakyar.
For Damodara Chakyar, who hails from a small hamlet called Painkulam in Thrissur district, this art form was kind of embedded deep inside his genes. Training, in his family, was just a domestic affair. As a child he waddled around the koothambalam (temple theatre) clenching the hands of his uncle, the great, Painkulam Rama Chakyar who became his first guru. But the road to glory is not always that of roses and one has to tread those countless sharp, blunt and hard thorns to reach one's destiny. It takes decades of training to achieve mastery over this intricate art form. In addition, Damodara Chakyar has also learned Sanskrit literature from Poomulli Neelakantan Namboothiri which is prerequisite for becoming a good artist.
As years passed Damodara Chakyar has his feet firm in the field of Kudiyattam and became an established artist and teacher. So much so that when Painkulam Rama Chakyar crossed the seas with his troupe to perform for the European audience, his nephew was an essential member of his team. Together with these great artists of Kalamandalam (a major centre for learning performing arts in Kerala) he performed in Poland, France, Germany and Thailand besides making appearances at major festivals in India.
After the demise of his guru and uncle Rama Chakyar, he took a detour from Kudiyattam and started performing Chakyar Koothu (another classical art form from Kerala) at various temples. As a teacher Damodara Chakyar has nurtured several talents in Kudiyattam and has conducted quite a few workshops in temples and secular institutions. Awards and accolades came the way of this great artist on several occasions. Some of them include the Kerala Kalamandalam Award (2004), Kerala Sangeetha Nataka Akademi Award (2006) and the prestigious Kendra Sangeet Natak Akademi Award (2012).