KERALA TOURISM NEWSLETTER
ISSUE: 253
SEPTEMBER 2014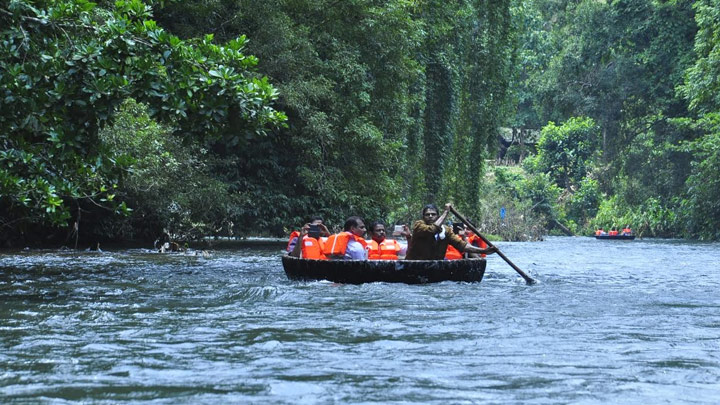 Rowing into the remote and the exotic
Row with the ripples of nature's gentlest waters and float towards vistas remote and exotic. Bringing you closer to the forest environs as well as the wildlife, the adventurous coracle rafting in Adavi, the first of its kind in Kerala, is all set for its maiden voyage.
A picturesque forest patch, 10 km from Konni on the banks of river Kallar, Adavi has nearly 5-km river frontage. The Adavi Eco-tourism project jointly launched by the departments of Forest and Tourism is part of the third phase of Konni Eco tourism project and is just five km from Mundommoozhy on the proposed Achencoil-Chittar hill highway.
Coracle rafting or Bowl Boat riding is an innovative venture, which promises a never-before experience to travellers. Coracle is a round bamboo raft on which a group of four can row. At Adavi, one can row the coracle on paying Rs. 200 for an hour. The rafting begins from Mundommoozhy and goes through Thottikayam, Idikallu, Thattathikayam and finally would reach Irattayaar. Tickets for rafting can be obtained from the Konni Eco-tourism Centre. A slender bamboo variety locally known as kallanmula obtained from the Mannarappara forest region is used for the making of the coracles used at Adavi. A butterfly park, a rehabilitation centre for elephants, whitewater rafting, adventure trekking, tree-top huts, bamboo cottages, canopy walkways and eco-friendly tourist cottages are the other attractions that would soon come up at Adavi.
Konni with a vast expanse of lush green forests is the eco-tourism hub of Pathanamthitta district, which has a project with elephants at its nerve centre. An elephant kraal (shelter), a photo gallery, modern elephant shelters, an elephant museum, shops to sell forest produce, a children's park, a biogas plant and a paper-making unit are part of the project, offering vivid experiences to the visitors.
Hop on a coracle and glide by nature's myriad canvases..
For more details contact:
Eco Tourism Office, Konni
Ph: +91 468 2247645
Website: http://www.konniecotourism.org/