KERALA TOURISM NEWSLETTER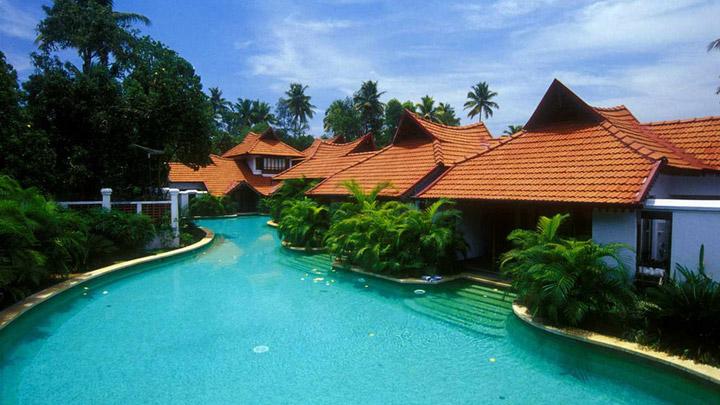 State Tourism Award Winners 2012-13
Kumarakom Lake Resort, Kottayam
Nestled on the banks of the serene Vembanad lake, Kumarakom Lake Resort exudes the charm of Kerala's true heritage, while offering a complete range of modern amenities for a memorable stay. Sprawling across 25 acres of lush greenery with soul-stirring ambience, the resort offers you the simple luxuries of life in all its grandeur.
Well appointed rooms, villas and suites; Ayurmana - the Ayurveda Spa; swimming pools; health club; multi-cuisine and specialty restaurants; traditional Kerala teashop and many other attractions in and around the resort, offer you a charm and experience akin to royalty. Thattukada, a traditional teashop to Ettukettu, the multi-cuisine restaurant, which is a princely eight-sided mansion with two central courtyards; the celebrated restaurants at the resort offer ethnic Kerala cuisine to Continental, Chinese, Mughlai and North Indian.
Cruise on traditional Kerala boats or kettuvalloms (rice barge) is a magnificent part of your stay at the resort. What is truly magical about a houseboat ride is the breathtaking view of the untouched and otherwise inaccessible rural Kerala that it offers, while you cruise the placid waters of the Vembanad lake. Kumarakom Lake Resort has recently been honoured with the Best Five-Star Hotel award of Kerala Tourism.
For more details visit: http://www.kumarakomlakeresort.in/