KERALA TOURISM NEWSLETTER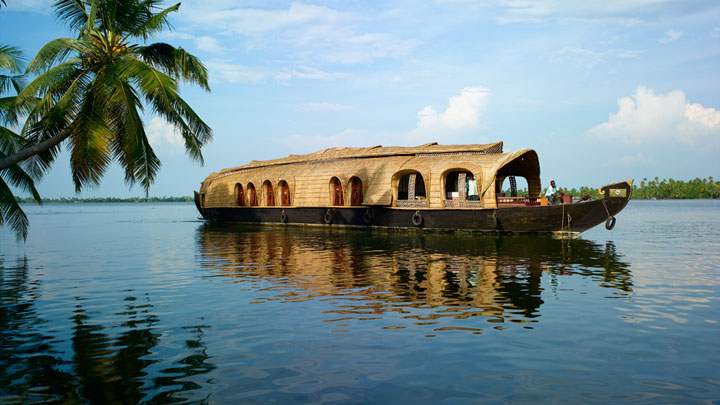 The Captivating Water World of Kumarakom
Ever enjoyed fishing with bow and arrow or sauntered beneath the shade of the swaying palm trees or tasted the delicious karimeen (pearl spot fish) and the sweet toddy oozing out of the earthen pot. Not yet! You better make a move for this exotic village, Kumarakom lulled by the placid backwaters. In its biggest international recognition to date, Kerala Tourism was awarded the UNWTO Ulysses Award for Innovation in Public Policy and Governance for its path-breaking 'Responsible Tourism' project in Kumarakom.
Crisscrossed by rivers, lakes, canals and backwaters Kuttanadu, spread over Alappuzha, Kottayam and Pathanamthitta districts in the State of Kerala is marked by many unique and fascinating geographical features. Kumarakom is a part of Kuttanadu. The story of Kumarakom as a tourist destination begins in the seventies when the legal heirs of Henry Baker handed over the land to the Kerala Tourism Development Corporation. Within three decades Kumarakom earned the reputation of a world-renowned backwater destination.

Department of Tourism, Government of Kerala envisaged a plan jointly with the Kumarakom Panchayat (the local self-administration body) and Kudumbasree - a self-help-group for women. A destination-level Responsible Tourism Committee and a Responsible Tourism (R T) Cell were also formed as part of the initiative to work under the guidance of the Kumarakom Panchayat. The programmes coordinated by the local bodies under the National Rural Employment Guarantee Act (NREGA) are clubbed with the RT activities.

During the village experience Tours, villagers share their experiences with the visitors. It could be sharing the know-how of certain technologies, like those employed in fishing or any other aspect of their daily life and work. Some of the specialties that await at Kumarakom include traditional coir making, toddy tapping, traditional Kerala cuisine, organic farming and traditional fishing. The artisans of the area also get a chance to present their work before the travel community. This in turn enables them to fetch decent prices for their work.
Environmental protection and awareness creation is integral to the Responsible Tourism campaign. Natural farming techniques, methods of waste recycling, protection of bio-diversity are some of the important components of the Kumarakom R T project. The success of the Kumarakom R T project has brought many laurels to Kerala Tourism, the latest of them being the UNWTO Ulysses Award.
As you wind up your tour to Kumarakom, the landscape, the river, the people and the dishes would have captivated your hearts with its ever imposing simplicity. Come and experience the magical charm of Kumarakom that eludes words.
Getting there:
Nearest railway station: Kottayam, about 13 km away.
Nearest airport: Cochin International Airport, about 60 km away.
Contact Address:
K. Roopesh Kumar
State RT Field Coordinator
Responsible Tourism
Ph: +91 9446921702, +91 8111805554