KERALA TOURISM NEWSLETTER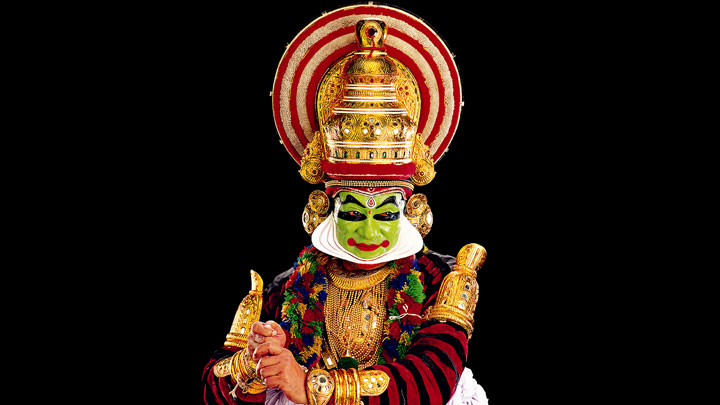 A Dance-Drama Sans Parallels
Kutiyattam opens up a window to a distinguished antiquity. Its symphonies and salient rhythms enliven the traditions gone by. Sanskrit classicism and local flavours meet and metamorphose in Kutiyattam, which boasts of a 2000-year-old cultural heritage as one of India's oldest living theatrical traditions. This art form is officially recognised by UNESCO as a Masterpiece of the Oral and Intangible Heritage of Humanity.
Aesthetically rooted in the Natyasastra, the magnum opus of the great sage Bharatha, mastering Kutiyattam takes great deal of dedication and rigorous training. It takes years to accomplish the perfection and sophistication that both the body and the mind demand for this spectacular performance.
Kutiyattam is traditionally performed in theatres called Koothambalams located in Hindu temples. A living testimony to the endurance of art, these Koothambalams are in fact an architectural tribute to the world theatre. Access to the performances was initially restricted owing to their sacred nature. Today, though the play has opened up to a larger audience, the actor's role remains sacred. The purification rituals and the oil lamp on stage during the performance signify sanctity and symbolize a divine presence.
At any given point in time, two or more characters occupy the stage during the performance. The Chakkiars (male members of Chakkiar community in Kerala) provide the male cast, while the Nangiars (female members of Chakkiar community) play the female cast. The Nangiars play the cymbals and recite verses in Sanskrit while the Nambiars (members of Nambiar community in Kerala) play the Mizhavu, a large copper drum. Performances usually last several days, the first few being expository. The characters are introduced in detail through incidents from their lives.
The beauty of this art form lies in the piety, humility and extreme devotion of its performers. The actors observe rituals even in their dressing rooms and are not averse to consulting the old manuals to ensure the continuance of traditions.
The Koodal Manikyam temple at Irinjalakkuda and the Vadakkumnathan temple at Thrissur are the main centres where Kutiyattam is still performed annually.
Kutiyattam is a towering testimony of a culture that transcends time and temper to relive its pasts in its pristine paradigms.