KERALA TOURISM NEWSLETTER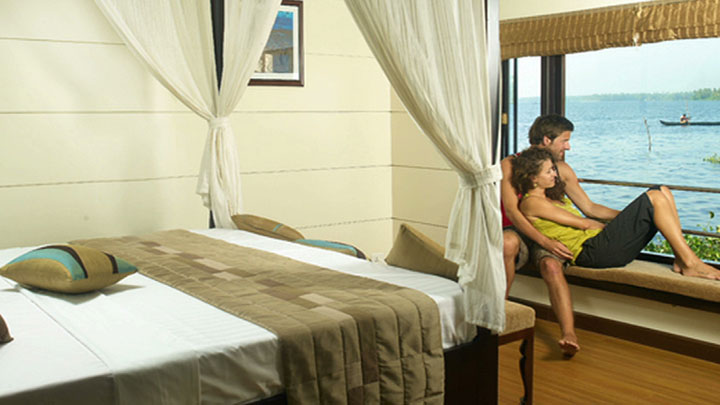 State Tourism Award Winners 2011-12
Best Approved & Classified House Boat Operator - Rainbow Cruises
Considered the best hangout for celebrities, eminent personalities and well-known names from different walks of life, Rainbow Cruises have helped many to enjoy a quality time amidst the mesmerizing charms of the backwaters of Alappuzha. With one of the finest fleets of houseboats, it is the first houseboat operator in Kerala to get the Gold Star certification of the Department of Tourism. Commencing its operations in the year 2000, this leading houseboat operator in Kerala was the first to introduce tailor-made cruise packages.
With Rainbow Cruises, guests will cruise on traditional kettuvallom (rice boat), modified to include state-of-the-art luxuries and safety measures. Houseboats from Rainbow Cruises are noted for its aesthetics and luxurious furnishing with exquisite flooring, hull and valavara (canopy). The houseboats also come with a sundeck, spacious living / dining area, bedrooms ranging from 100 sq. ft to 130 sq. ft, separate toilets for the crew, spacious passage and a neat and classy kitchen.
Rainbow Cruises has for its guests a fleet of around 24 houseboats. Among these, guests have the choice to opt for Premium A/c, Deluxe A/c and Non A/c houseboats. These houseboats exude a sleek design, equipped with every luxury and safety measures, promising customized comfort with elements of Kerala heritage. One of the service hallmarks of Rainbow Cruises houseboats is its commitment to eco-friendly measures. Guests onboard any of the houseboats would find that solid waste and sewage are managed through bio-chemical alternatives and has a sewage treatment plant of its own.
Onboard the houseboats of Rainbow Cruises, guests are assured of quality service from the cruise staff, who are conversant in English. Cruise on the houseboats of Rainbow Cruises is also an opportunity for guests to relish an array of excellent food, especially ethnic ones. Those who indulge in reading in between exciting moments of backwater cruise would appreciate the choicest collection of reading materials.
Taking backwater cruise holidays to a new level, Rainbow Cruises also offer exclusive packages of 'working vacations' to corporates looking for a refreshing experience. Rainbow Cruises can organize board meetings on a houseboat or on an island in the backwaters, for making brain storming sessions highly rewarding and less tiring. Rainbow Cruises has been bagging the Best Approved and Classified Houseboat Operator Award by Kerala Tourism, since 2003 with the most recent one coming in 2012.
For more details, log on to, www.rainbowcruises.in