KERALA TOURISM NEWSLETTER
ISSUE: 253
SEPTEMBER 2014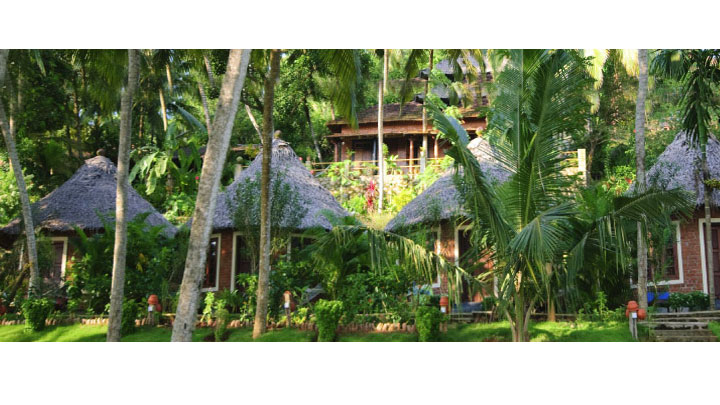 State Tourism Award Winners 2012-13
Somatheeram Ayurvedic Beach Resort Pvt. Ltd.
Nurturing the unbroken tradition of Ayurveda in Kerala is Somatheeram Ayurvedic Beach Resort; a pioneer among Ayurveda resorts in the world. Spread over 15 acres of lush greenery on a hillock at Chowara, the resort is about nine kilometers south of the renowned Kovalam beach in Thiruvananthapuram, the capital city of Kerala. Ayurvedic life is the soul and essence of Somatheeram. It is a complete resort with tradition, culture, history, Ayurveda, Yoga, beach, nature and offers more than 30 different Ayurvedic treatments.
The traditional Kerala style houses and cottages set amidst towering coconut trees that sway constantly, catching the cool sea breeze offer a refreshing ambience to the visitor. Among the many Ayurvedic therapy packages available here are Rejuvenation Therapy / Body Purification Therapy, Slimming, Stress Management, Beauty Care and Anti-Ageing. The beauty clinic here offering care therapies with various herbs, herbal extracts, fresh fruits and natural products is quite popular.
The restaurant facing the sea offers about 200 different Ayurvedic vegetarian dishes, salads and juices. A skillful combination in terms of flavour, colour, consistency and preparation method, Ayurvedic meal is the best part of cuisine here. Somatheeram is a choice destination that comes with magnificent ambience and a holistic medical care. The resort recently bagged Kerala Tourism's award for the Best Approved & Classified Ayurvedic Centre in Kerala for the year 2012-13.
For more details: www.somatheeram.in