KERALA TOURISM NEWSLETTER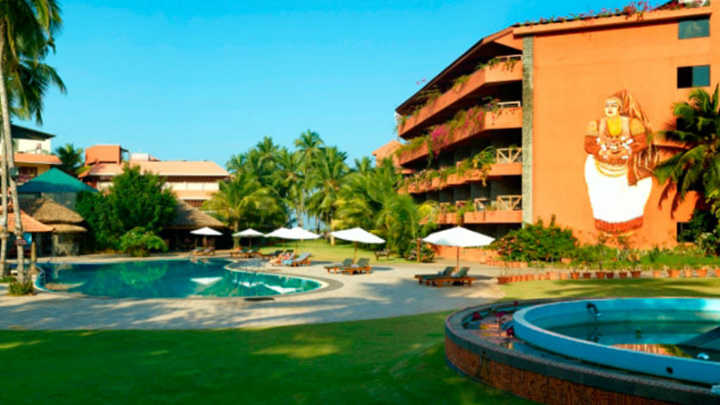 State Tourism Award Winners 2011-12
Uday Samudra Leisure Beach Hotel & Spa
Kovalam, the world renowned beach destination in Kerala has in store an array of resorts that make it ideal for holidayers from around the world. Among the genre of resorts here that have cut a niche for themselves among lovers of sun, sand and surf is a four-star leisure beach hotel – Uday Samudra (UDS) – winner of the Kerala Tourism award for the best four-star hotel 2011-12.

Facing the Arabian Sea and set amid coconut groves, UDS is one among the best when it comes to holidays among beach destinations in Kerala. Being a captivating spot, Uday Samudra itself is a destination where personal comforts and wellness is at its luxurious best. The whole environment enables visitors to unwind and to remain in high spirits. The ambience, both inside and outside the hotel, has a harmony that is reflected in its architecture, facilities, services and the landscape. Appealing to distinguished and discerning travelers UDS is ISO 9001-2000 certified and is indeed a leading name in the hospitality sector.
UDS provides comfortable and luxurious accommodation for visitors with its own trademark elegance. The multi-cuisine restaurant – Grass Hopper – is a favourite among the guests at UDS. Here, one could try Chinese, Continental, Italian, Mughal and Kerala cuisines in a traditional ambience. The restaurant comes with delightful sights of the swimming pool, surrounding lawn and the beach beyond. Those who relish seafood would invariably find – Aqua Marine, the seafood restaurant here too irresistible. It has for you, an array of Kerala seafood delicacies. And of course the Lounge – the snack bar with its sea view is something that adds to your dining experience at UDS. Also, don't forget to check out the Grill, facing the pool for its seafood grills and continental delicacies.

The cultural programs arranged for the guests include Kathakali, Bharatanatyam, Ghazal music session and live bands, organized during the dinner time. Shopping is yet another delightful part of your stay at UDS. The choices include a collection of Indian handicrafts, gems and jewelry, garments, sandalwood products, bronze items, silk, paintings, silver articles, Pashmina shawls, handloom bed covers and silk scarves. UDS also comes with support facilities that include a business centre, cyber cafe, foreign exchange, doctor-on-call, acceptance of major credit cards, in-house laundry and 24-hour room service.

UDS has inherited a strong quality orientation from its heritage, whose quality standards place it among the top of the organizations in the hospitality industry.

For more details visit: http://www.uds.co.in/