KERALA TOURISM NEWSLETTER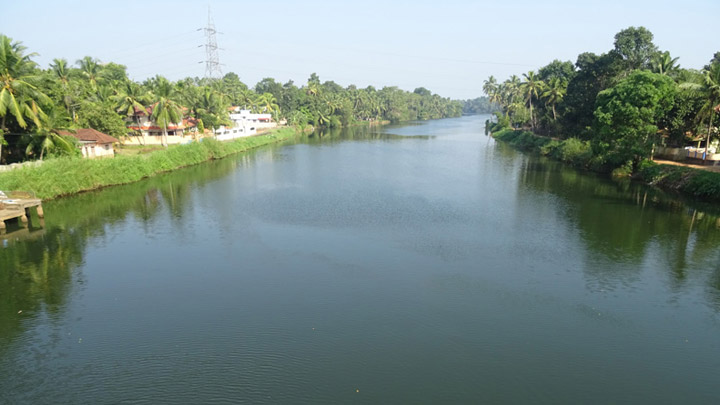 A Tale on a River Trail
You may have umpteen ways of rejuvenating your spirit, but none could ever match this one. Follow a river to its origin and enjoy nature's magical bloom.
This is a trek that will take you to the source of Manimala, a river that nourishes central Kerala. You may begin your trek from Elamkadu in Idukki district, 16 km northeast of Mundakkayam to reach Kolahalamedu in Vagamon. This is a terrain that is overwhelmingly verdant and noted for its year round cool weather.
Nature's bounty starts showing up as soon as you reach Viliyanth (a place that derives its name from Valley End). Not far away is Pullakayar, crisscrossing the Thoniyamkadu forest. This river is the main tributary of the Manimala River, which originates from the marshes around Vagamon. Pullakayar with its many cascades add to the musical notes of Nature. Soak yourself in its cool waters, relax and proceed. At Mundakkayam, Pullakayar is joined by other streams and takes the form of the Manimala River.
This exhilarating trek unveils many captivating vistas of nature. The winding trails take you through the mist and the endless blue. It is a feast for your eyes as clusters of bamboo swing and dance in the breeze. Hark! Lend an ear to their rustle. The spell just does not end…..the enchanted awaits.
As the murmurs melt down to a mystic silence, you enter Vagamon, a land of grassy hills, velvet lawns and the crisp, cool mountain air. Look down to see the trails you have traversed so far. Veiled by the trees, there is none but luxuriant green.
What awaits you beyond this snaky corridor is yet another wonder. Draped in green, Kolahalamedu greets you to the source of the Manimala River. Starting its journey from here, the river flows down like a mesmerizing fairy queen!
Travel info:
Valiyanda where the trek begins is accessible by four wheelers. Buses run upto ElamkaduTown in Idukki district around 4 km from Valiyanda.
Getting there:
Nearest railway station: Kottayam, about 67 km
Nearest airport: Cochin International Airport, about 110 km from Elamkadu