KERALA TOURISM NEWSLETTER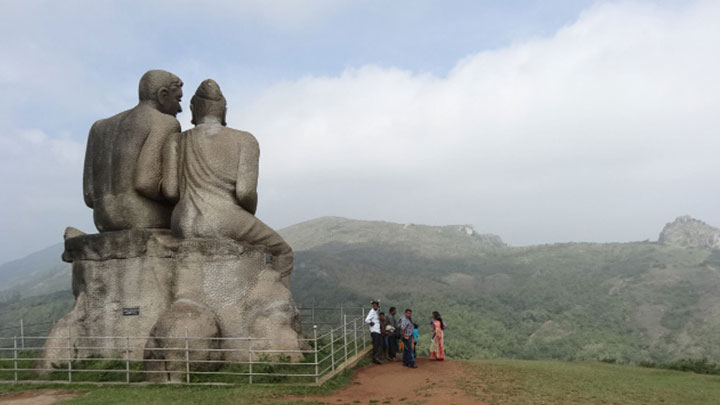 Windswept Heights of Ramakkalmedu
Amidst the whistling whims of the wind in the sprawling Western Ghats, stands the beautifully perched mount Ramakkalmedu. A hill station in Idukki District, about 36 km north of Kumily with rolling green hills and fresh mountain air, Ramakkalmedu is an enchanting giant.
Ramakkalmedu is one of the most windy places in Asia. Legend has it that Lord Rama came here during his search for Sita, his wife. Blessed by the touch of Lord Rama's feet, the mount acquired the name Ramakkalmedu.
By foot or by vehicle, Ramakkalmedu welcomes all its tourists with its wooing winds. For a wonderful experience, leave your vehicle in the valley and set out on your foot. Trek with the gushing breeze. The sweat and the rocks will eventually give way to a grand awe at the top. You cannot but exclaim, "it's worth the pain!"
On the open meadows of the mount stand two huge statues of a 'kuravan' and a 'kurathi' and their child (people with tribal background) looking down nonchalantly at the visitors.
Lying on the Kerala-Tamilnadu border and close to Chellarkovil, Ramakkalmedu offers the fabulous vistas of the Tamil locale. From here, one can enjoy the panoramic view of the picturesque villages of Bodi and Cumbum on the Eastern slope of the Western Ghats, the brown grounds crisscrossed by roads and lush green vistas. Ramakkalmedu also has a Wind Energy Farm.
4 km down the mount you will reach Thirumalairayar Perumal Kovil in the border of Kerala and Tamilnadu. Trek down through the meandering path less traveled by. Butterflies linger lazily and the sun fails to show its bright smiling face along the way. From the temple, one can see Ramakkalmedu, towering high on one side. Here, people from both Tamilnadu and Kerala offer prayers.
Ramakkalmedu is an ideal pick for both the serene and the adventurous alike. Dance with the wind or slip into a trance, Ramakkalmedu will leave you mesmerized!