KERALA TOURISM NEWSLETTER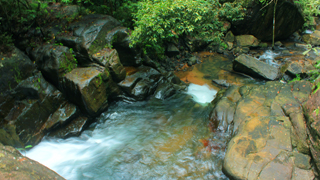 Gentle Echoes of the Wild
Have you ever wished to retreat to a verdant landscape and rejuvenate yourself when bogged down by the dry and arid summer landscape? Well, this trekking path on the banks of the rivers Kalladayar and Ponmudiyaar is exactly what you are looking for. Get ready to explore some lesser known trails in Sankhili.
The Sankhili forest (valley), well-known for its varied flora and fauna is a hotspot in the Western Ghats. It comes under the Kulathupuzha forest range in Kollam district. Begin your trek from Arippa in Thiruvananthapuram district. The trek through Arippa is a bird watcher's delight. Arippa, a lowland evergreen forest is home to over 270 species of birds, including several endangered species.
Karinkurinjipacha is a freshwater marsh not far away from the base camp in Arippa. The cool air and the gentle breeze embrace you as you approach the Kallada river, which is not far away from the marsh. The twinkling flow seizes your imagination, inviting you into her lap.
As you proceed from there you reach Ammayambalapacha and the plantations nearby it. Cross it and you are en route to Sankhili forest. A 12 km trek would take you to the magnificent Idukumpara waterfalls, which is a sight to behold. Soak yourself in the beauty of the falls splashing down the rocks. Five kilometers from Idukumpara waterfalls is Patham Number - the point where the Ponmudi river joins the Sankhili river. It is an ideal place for a night camp.
The Sankhili river joins the Vellamala river at Iratumukku. You may take a right turn from Iratumukku and trek another five kilometers to reach a waterfalls larger than the Idukumpara waterfalls. Numerous streams criss-cross this route.
You cross five hills in the course of your trek from Arippa to Sankhili. The final phase of the trek involves descending the slopes and crossing the streams.
Mountains, waterfalls, streams, rich flora and fauna make this venturous trek enticing. Unwind yourself amid this nature's bounty.

One has to procure special permission from the Department of Forest for trekking here.
Contact details:
Kulathuppuzha Forest Range Office: +91 475 2317827