KERALA TOURISM NEWSLETTER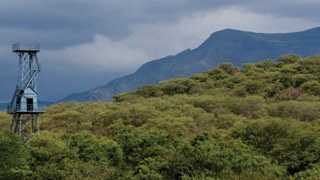 Chinnar Wildlife Sanctuary: A Call from the Wild
A well guarded treasure trove of nearly a thousand species of rare flowering plants and a thorny scrub forest with Xerophyte species, Chinnar is a habitat for the endangered Giant Grizzled Squirrel of India. It is situated in the rain-shadow region in the eastern slope of the Western Ghats, adjoining the neighbouring State of Tamil Nadu.
Chinnar is home to a healthy population of Grizzled Giant Squirrel, Star Tortoise, Tufted Grey Langur, gaur, Spotted Deer, Slender Loris, elephant, crocodile, tiger, leopard and many bird species, insects and plants. Rich in wildlife, the mixed deciduous forests here in this 90.44 sq. km. sanctuary are ideal for trekking. The sanctuary offers five different packages to explore it and is an ideal destination for wildlife enthusiasts and nature lovers.
The packages are:
Koottar River Side, Watch Tower, Churulipetty River Side & Thoovanam Water Falls Trekking
A guided trek to the dry deciduous forests and through the riparian forest along the Chinnar River, a visit to the archaeological remnants, the dolmens and the sandal forests are the highlights of this package. The 100 meters wide waterfall is sure to steal your heart.
Vasiyapara Ethnic Hut and Trekking
A stay in an ethnic hut built in typical tribal style at Vasiyapara and a trek through the jungles and scrub forest leading to the Vashyapara Ethnic Hut near a swamp is a memorable experience.
Stay at Koottar or Karakkad Tree-Top Houses
The tree-top huts (machans) that have been built and furnished in a well protected manner at two different sites provide a good aerial view of the surrounding forests and is worth an experience.
Stay at Thoovanam Log House near waterfalls, Jellimala Log house
The solar electrified and fully equipped log house facing the water falls deep within enchanting forests offer all facilities for a unique, enjoyable stay.
Stay at Churilipetty log house, Paambar or Koottar log house
A stay at a fully equipped log house at Chinnar valley in the deep forests. The log house with forest ambience can accommodate two people.
Contact Details:
Forest Information Centre
Wildlife Warden's Office, Munnar PO,
Idukki Kerala - 6 5612
Tel +91 4865 231587
Mob. 8301024187, 8547603199
Email enpmunnar gmail.com